James Franco Plays Twins in New Trailer for HBO's Seedy Drama The Deuce
James Franco plays twin brothers caught up in pornography and organized crime in 1970s New York City.
---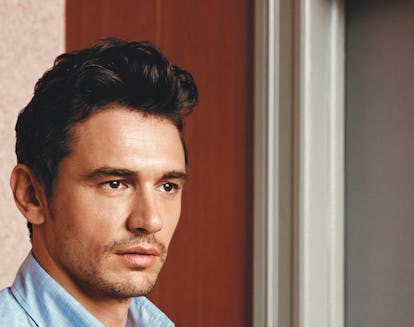 Photographs by Alasdair McLellan, Styled by Edward Enninful; Hair by Shay Ashual at Art Partner; makeup by Diane Kendal for Marc Jacobs Beauty at Julian Watson Agency; manicures by Casey Herman for Dior at the Wall Group. Set design by Stefan Beckman at Exposure NY.
The world at large had only seen less than 30 seconds of HBO's upcoming The Deuce, the David Simon-created drama about the porn, prostitution and organized crime that infested Times Square in the '70s and there was a whole lot going on just in that small glimpse alone. The creators seemed to have digitally recreated vintage Times Square, teased us with hints of tawdriness, and put Maggie Gyllenhaal in a very statement-worthy blonde wig.
So much happened that we forget that this is the project in which James Franco plays twins. The latest teaser, about three-times as long as the first, gives us the first look of how exactly that will work, and the result is a whole lot of Franco. In fact, we get a peek at a scene where Franco plays both Vincent and Frankie Martino with no other characters. That's a whole lot of Franco.
In fact, Franco also directed an episode, which, as he recently told us, turned out to be the most twin-heavy episode of the entire series.
"It turns out, boom, we get the script, and it's like every scene is twins talking to each other, you know what I mean?" he said. "So as a director, I gotta kinda set it up, and then I gotta put on the makeup as Vinnie, and then do Vinnie. And then I've gotta double."
"And when you're playing two characters in a scene, it's this whole different thing from what I'm used to doing in movies with Seth Rogen, where we improvise all the time. But when you're playing twins, you kind of have to think about what the other one is gonna improvise. So it's like I would come up with stuff for Vinnie, but then I'd be like, 'Oh, wait, Frankie should be saying that.' So then I had to whisper to Will, this guy from NYU who was my double, like, "All right, when I say this, you say that.'"
As far as we can tell form the trailer, one of Franco's characters appears to be trying to earn an honest living with his bar, while the other finds himself involved in all sorts of nefarious schemes. Thankfully, the characters both have very distinct wigs so viewers can tell them apart when the series premiers on September 10th.
Related: James Franco Admits Directing Himself as Twins in HBO's The Deuce Was a Little Confusing
James Franco Used to Pick Up Girls Working at a McDonald's Drive Thru: