James Ivory, Screenwriter of Call Me by Your Name, Wore a Shirt With Timothée Chalamet's Face on It to the 2018 Oscars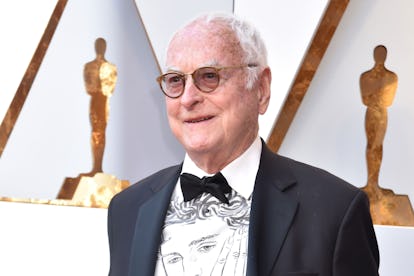 Jeff Kravitz/Getty Images
Actor Timothée Chalamet cemented his place as a fan favorite/Internet sensation following his role in Call Me by Your Name. But James Ivory, the legendary Oscar-nominated screenwriter of the movie, may have just taken home the title of most dedicated Timmy stan. The 89-year-old, who adapted the script from the 2007 novel of the same name, showed his love for the young actor by keeping him close to his heart on the 2018 Oscars red carpet—literally: Ivory turned up wearing a custom white button-down shirt with Chalamet's face printed on the front.
Specifically, Ivory's shirt features what seems to be a hand-drawn version of a still from the movie in which Chalamet, who stars as Elio, looks pensively at a fireplace. The shirt itself appears to be made of linen, and the face looks to have been drawn on with a black marker. The look was completed with a classic tuxedo, a bow tie, and a simple cane, but of course Chalamet manages to be the star of the show, even in 2D.
Chalamet is nominated for the Best Actor award alongside Daniel Day-Lewis, Daniel Kaluuya, Gary Oldman, and Denzel Washington, but even if he doesn't take home the golden statue, he's likely to be seen onstage, as Ivory is favored to win in his category (and now holds the title of second oldest Oscar contender ever). It seems fitting that Ivory would wear one half of the movie's stars on his chest for Hollywood's biggest night; perhaps the tribute is a thank-you to the young actor, who helped Ivory onto the stage when he won the BAFTA for Best Adapted Screenplay last month.
Ivory, by this point, is an Oscars vet. The writer/director and his late partner Ismail Merchant were behind numerous Oscar-nominated films including A Room With a View, Howards End, and The Remains of the Day. Ivory himself has been nominated three times as a director, but has never won. His first may come while wearing this Timmy shirt.
Naturally, the Internet went wild for the sartorial nod to the 22-year-old actor. So, what will become of the most epic Timothée Chalamet fan art ever? Ivory told the Los Angeles Times that he would give the shirt to Chalamet himself after tonight's activities. Chalamet himself has yet to comment, but we expect it's only a matter of time before we see him wearing his own face around town.
See the full look and some reactions, below.
Related: Timothée Chalamet FaceTimed Armie Hammer for Moral Support During the Independent Spirit Awards