Timothée Chalamet Facetimed Armie Hammer for Moral Support During The Independent Spirit Awards
He won the show's best actor prize, anyway, so he's fine.
---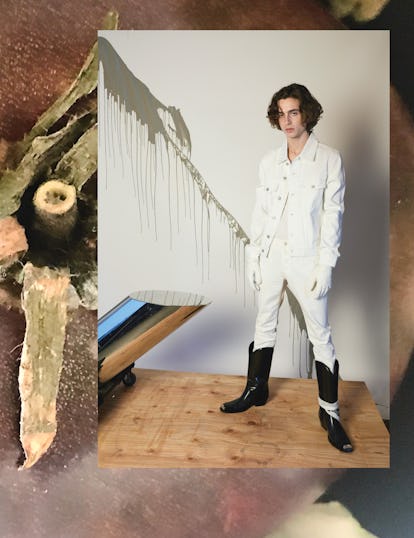 Photographs by Juergen Teller; Styled by Edward Enninful
Actor Timothée Chalamet might have come away from Saturday night's Independent Spirit Awards with a win in the Best Male Lead category for his performance in Call Me By Your Name—making him the award's third-youngest winner ever—but that didn't mean the awards' hosts, Nick Kroll and John Mulaney, let him off the hook in their opening monologue.
"Are we allowed to say 'cum peach'?" Kroll asked just a minute into the approximately 10-minute bit. "Okay, what if we said there was a certain type of stone fruit that was filled to the brim with ejaculate? Is that okay?" The target of his early quip was, of course, Call Me By Your Name, which features a now-internet-famous scene involving a very ripe peach—so, naturally, the broadcast quickly cut to show Chalamet in the audience. The 22-year-old actor held up his iPhone, a shirtless, apparently bedridden, yet still beaming Armie Hammer (himself a Best Supporting Male nominee) peering out from the screen via FaceTime. (Hammer later posted an Instagram from the same spot, where he was surrounded by "pedialyte and chicken soup.")
"Timothée, thanks for taking a break from the gas station," Kroll continued later, referring to Chalamet's look, which comprised a Off-White button-down shirt with a patch reading "OFFW" on his chest and white Saint Laurent sneakers. But, after all, Chalamet was only adhering to the dress code Mulaney himself announced at the very outset of the show: "The Independent Spirit Awards, where the dress code is 'get dressed.'"
Chalamet riffed on Kroll's remarks when he stepped onto the stage to accept his award, beginning his speech with a dictionary definition of "gasoline." ("I'm trying to savor this moment," he said.) Anyways, if you're going to be roasted in front of a massive audience of your peers and admirers, it probably helps to have your co-star on speed dial and a cold, shiny trophy to take home at the end of the night. See the full monologue, below.
Related: Timothée Chalamet Is Worried He'll Never Outlive That Peach Scene