Elizabeth Chambers Hammer Reflects On Her Wild Year And Call Me By Your Name
The three have gone all over the world together for 'Call Me By Your Name.'
---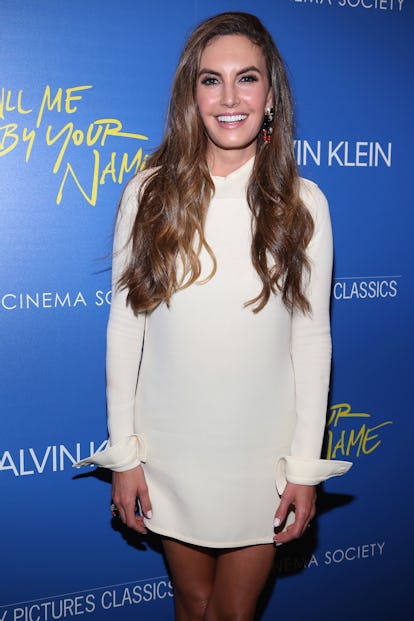 Sylvain Gaboury
For the past 15 months, Armie Hammer and Timothée Chalamet have been all around the world promoting their Oscar-nominated film Call Me By Your Name. Along for the ride was Elizabeth Chambers Hammer, wife of Armie, who has been along for the ride and capturing the off-duty moments of the two leads' endless promotion on her popular Instagram account—all the while managing the two outposts of her Texas-based Bird Bakery from the road. And while being far from the office might encourage some to slow down, Chambers is only ramping up business. "My goal is to get Bird Bakery in everyone's pantry, refrigerator, and grocery store," she shared. Of course, all that will wait until after the coming weekend which will, of course, be dedicated to the Academy Awards and its many parties. For Hammer, it also marks the end of the long Call Me By Your Name journey. Ahead of the Oscars, the entrepreneur talked about her favorite memories from the movie, watching Chalamet become a superstar, and balancing work while on the road.
Has Oscars madness settled in? It starts so early. Every single year, you think, "We'll have a week before." And then you realize that the events start on the Sunday before the Oscars, so you really have just no time at all. But it's exciting. I feel like everyone is running around like crazy people in this town.
Do you get to enjoy it at all, or is it pure chaos? The good thing is I'm just here to support, which is wonderful. So I'm getting to enjoy all the fun without having to do all the work. But unfortunately my own work doesn't stop; my kitchen manager has decided that she wants to pursue another profession. I'm like, "This week, you cannot." So while it is a lot of fun, it is always a balancing act, for sure.
How does it feel that the Call Me By Your Name journey is coming to an end? They've been promoting the movie for 15 months. It's crazy. And actually, after the Oscars, I'm going to Austin to speak at South by Southwest, and then they are going to Tokyo to do the Asian tour. So It's actually not over. [Armie] works so much and is always promoting a film—after this he has Final Portrait. It's always wonderful to be a supportive spouse and to support your family, but this movie is really special and has changed lives and touched so many people. I'm really proud of the filmmakers and everyone who is involved in it. I think it is a different type of film than the rest.
Do you remember the first time you heard about? I read the script two years ago and I thought it was amazing. I had read the book—Tom Ford actually recommended it to me a long time ago. It was so beautiful. I read a lot, and that was one of my favorite books that year.
And when did you first meet Timothée Chalamet? We were in Italy and had dinner together. You're in a small Italian village so you're just happy to be around anyone who speaks English, and especially if they are super cool on top of that. There were only four restaurants in this small little town. It was a wonderful experience for everyone involved.
How has it been to see him explode into the star he is now? You are always just so happy when your friends are working. I think a lot of times in this business, you can do an amazing project and give an amazing project, and it is not necessarily recognized. There are so many amazing performances that I feel go completely unappreciated and unrecognized. So when something is not only recognized but people's lives are changed for the better. I mean, I have people who drop off letters at the bakery to give to Armie and Timmy. One of very sweet customers in palace was like, "My dad is a pastor and I never thought that I could come out until after seeing this movie. After seeing this movie, it has given me the strength."
How did living in Italy while shooting the film affect your inspiration for the bakery? Whenever I travel anywhere, I look at their baked goods. I found the most incredible tiramisu recipe when I was there, which I now make at home. I can't really add it to our menu because we are an American nostalgic bakery. I was even in Paris two weeks ago and found the most incredible lemon tart I've ever had in my life. Wherever I am, I am looking for the best inspiration. Some people go directly to clothing stores, but I go off the plane to the bakeries. It's market research.
Were there any places that the promo tour took you to that you especially loved? I love London because I love the way they decorate their sugar cookies. I'm still dreaming of those lemon tarts in Paris. I always ask the concierge what their favorite bakeries are. I will hit up to a dozen bakeries.
How have you balanced having the bakeries in Texas while on the road? I'm in Texas basically every other week. Now that we have our second location, I was joking that i'm splitting my time between my two children and my two bakeries—and my 103 employees that I also feel deserve my full attention. So I have 105 additional children .But it is definitely a challenge and I couldn't do it without my team. I'm so passionate about it, and its a part of my heart.
And Armie is also involved in the bakery, right? Yes, he is our resident taste tester. He has a great palette. He can tell when things are not consistent. Everything we bake is from scratch everyday, so consistency is our biggest challenge, for sure. His favorite right now is our chocolate strawberry cupcakes. He'll be the first to be like, "I don't know, the buttercream tastes sweeter than normal." He loves to give his opinion.
You post a lot on Instagram from your bakery, as well as on the road, with some pretty funny captions. What is your approach to social media? The balance is always funny. You want to support your family, and your friends. It's a balance of trying to be five places at once and trying to be present. The good thing about Instagram is it really does reflect life and that balance. There's definitely never a lack of content, that's for sure.
Has anything you've posted gotten more attention than you expected? Armie's tracksuit moment. He's completely over tracksuits now. He's like, "Nope, they are becoming too popular. I'm over it." It was really funny because at Christmas, he said he really wanted a tracksuit and I didn't understand why. He said, "We are doing so much promotion, I may as well be comfortable." I was like, "You get to wear a suit. It's not like you wear dresses and heels." But yeah, he's really into the tracksuits and thank god he's not wearing one to the Oscars. I thought we were taking it a little too far.
Do you know what you are wearing? I do not. It's been a lot of fittings. I'm trying to find the perfect thing; you don't want to be over-the-top. I basically just have to be subtle arm candy—Armie candy, I guess.
Have you been to the Oscars before? We went for The Social Network, which was amazing. And every year we go to the Vanity Fair party. Last year I had just had a baby a month before, so a lot of Spanx were involved. There are so many festivities all week and weekend. It's so much fun seeing friends out, and everyone has this festive spirit. It's truly a weekend of celebration. I love films. I've seen all of the contenders.
Any favorites? I saw Get Out twice. I loved Get Out. Obviously Call Me By Your Name is my favorite. But Get Out was my second favorite.
Since you are a veteran of the Oscars, have you given Timothée any advice on what to expect? Well he has literally won like 45 awards this season. He's super excited, and you don't get anything that you haven't been prepared for. I think at this point, he's had all the preliminary things leading up to it, so nothing is going to be a surprise.
Related: Call Me by Your Name Director Luca Guadagnino Tackles His Next Project: A W Photoshoot in the Desert