Kendall Jenner's Fashion Week Look Is Inspired, In Part, By the Way Kanye West Wears Tracksuits
The model kicked off fashion week at the Adidas and Daniëlle Cathari presentation.
---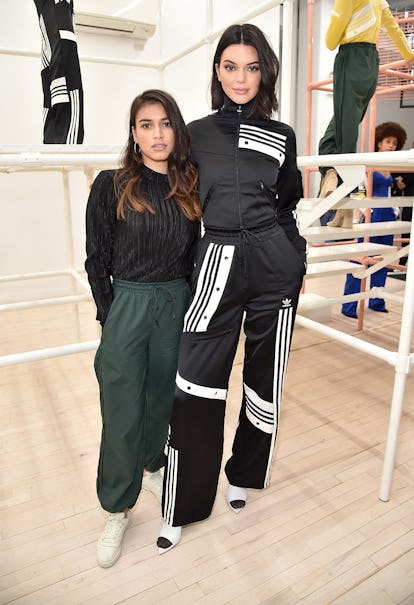 Kevin Mazur
Fashion month—a four week plus stretch of fashion shows across New York, London, Milan, and Paris—is the busiest time of year for models, especially in-demand supermodels like Kendall Jenner.
On the first week of New York Fashion Week, however, Jenner looked calm and prepared while attending the Adidas and Daniëlle Cathari presentation. Backstage before the show began, Jenner and the designer recounted how they first met.
"Danielle and I met in New York, and we got along pretty well," Jenner said with a grin, settled into a couch next to Cathari. "I had seen her on Instagram, and then Adidas was like, 'What do you think of this girl?' And I was like, 'She's so rad,' and went deeper into her stuff and found more out about her. She kills it. I think everything she does is so cool."
The pair was gearing up for the doors to open at one of the first major presentations for the month, which marked Cathari's official partnership with Adidas—a partnering that stemmed from the designer's senior project at Amsterdam Fashion Institute, in which she deconstructed classic Adidas tracksuits.
"The assignment was to create three looks that best represented your signature," said Cathari. "I already knew I wanted to do something with the tracksuit. I've always been into them, particularly the iconic Adidas one. I bought a bunch of vintage pieces and cut them apart to really reimagine the tracksuit, and deconstructed to become more feminine items."
Last February, the designer showed the collection as part of the VFILES show, and drew attention from Adidas themselves. Rather than get litigious, however, a fruitful collaboration was born. "I think that is so awesome that Adidas was like, 'No, we want you to come work for us.' That's so cool," she said.
Cathari's Spring 2018 collection for Adidas continued her work in the field of reimagining the classic tracksuit. The deconstructed pieces were presented in a wide array of colors, ranging from neon orange to classic black, the latter of which Jenner was wearing—a look that was equally modern and nostalgic for the model.
"There's actually photos of me as a kid that circle around that my mom would always dress me and my sister together in little tracksuits," she said. "Literally since I've been a kid I've been wearing Adidas tracksuits.
As an adult, she's still a fan of the look. "I think [athleisure] is really cool," Jenner continued. "Especially living in L.A., it is such a huge part of your lifestyle. I always like being casual and comfortable, so athleisure is what I go to. I think especially right now, people have made such a statement with it. People like [Danielle], people like [Kanye West], even, just everyone is always wearing sweats or workout pants and just making it super dope. Why not?"
For the presentation, Jenner had paired her tracksuit with a pair of staggering high white heels—a footwear choice that likely wasn't going to last much longer as the month progressed. "I was putting some outfits together before I came here and was like, 'I need some sneakers. I cannot wear heels every day,'" she admitted. "I mostly [plan outfits in advance]. [My stylist and I] work together and figure things out. I can't just come [to New York] and be like, 'What?' Some days I'll run out of stuff and be like, 'Okay, I have to throw something together last minute.' It can be [stressful], especially when your mind is not clicking and you're just like, 'Ugh. I need something.'"
Luckily, as an Adidas ambassador, it won't be difficult to get her hands on a pair of sneakers (or 20).
Related: Bella Hadid Wants to Remind Women They Don't Need a Man To Buy Them Diamonds