James Pecis, Fashion's Go-To Hairstylist, Uses Peanut Butter to Untangle Those Really Tricky Knots
The man backstage at some of the hottest runway shows reveals his insider tricks.
---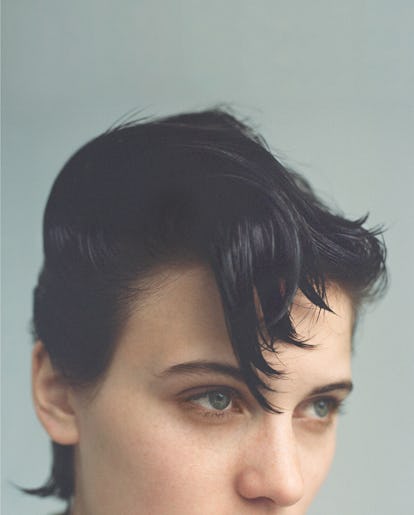 Photograph by Dario Catellani, Hair by James Pecis; Styled by Zara Zachrisson at CLM; Makeup by Fara Homidi for Dior at Frank Reps; Models: Sarah Brown and Ania Chiz at The Society; retouching by house tribeca; photography assistants: Fabrizio Amoroso, Max Bernetz, Jake Merrill; fashion assistant: Sara Van Pee
Hair super-stylist James Pecis is nothing if not versatile, which could explain why he rocks the locks at hot runway shows like Off White, Wanda Nylon, and Brandon Maxwell, and is a serial collaborator with photographers like Inez and Vinoodh, Mert and Marcus, and Mario Sorrenti. In short, Pecis can do it all: messy-undone, structured, complicated, minimal—and he's especially known for his deft and creative way with braids. Not surprisingly, he's also pretty good with a pair of scissors. For a story in W's August issue, he clipped one model's hair into an on-trend layered shag, and precisely honed another model's shoulder-grazing bob. The stylist even helps formulate products in his role as global ambassador for Oribe (his latest is a volumizing powder spray called Swept Up). But despite the killer resume, Pecis is about as chill and down to earth as it gets. He was even polite when we interrupted his summer holiday in Central America with a few questions.
Where do you live these days?
I'm now based in New York, but I'm usually on the road. Paris has my heart, London has my soul, and Brooklyn has my bed.
You're from California, and you're an avid surfer. [Pecis just published Noodled, which juxtaposes photos of the sea with wave and surf-inspired hairdos, with proceeds going to Mission Blue, an organization that focuses on ocean education and preservation.]
Correction… I'm more of a novice at surfing. [Laughs.] I love it and do it as much as possible but not nearly enough to be "avid," but thank you.
Where's the coolest place you've ever traveled to for surfing? Any harrowing tales?
I go any chance I can get. I'm on a trip now. I also keep a cheap waterproof watch in my kit so I can sneak away before, after, or during a shoot if I'm on location. No harrowing tales. The occasional double hold down. This morning I was next to a sea turtle. She was just swimming past, doing her thing.
How did you incorporate your love of waves into your work?
Working on the book Noodled was the first time I brought the movement of water and hair together. This book was a study of beauty inspired by nature and the movement of water has many similarities to the movement seen in hair.
There is a playful element that runs through a lot of your work. How do you keep hair amusing?
I ride the subway. I look around. I see what kids are doing and try to keep things playful in my work. Hair is fun!
Your work can also be quite formal. Do you do a lot of historical research?
I spend time researching and looking for new ideas. I do the best research in libraries, not on Google. I keep an archive on a separate hair drive and update it regularly.
Do you have a pet product du jour?
I recently worked with the Oribe team to create "Swept Up," which I use almost everyday. It is my obsession product for 2017.
I've read you sometimes use peanut butter as a hair product? Seriously? What brand?
[Laughs.] No, but I do recommend using it to get out the toughest tangles and gum stuck in the hair. Not sure on the brand… but hopefully some sustainably farmed one.
What do you recommend for thinning hair? It's always a big topic.
Very big topic—an article in itself. There are so many factors: Health, stress , genetics, environment, etc. Hair vitamins are the place to start. A multivitamin and one specifically for hair and nails. Make sure it has "horsetail root" and silica in it. You will notice your nails will grow stronger and faster as well. Eat healthily and clean and consume less processed crap. Exercise and sleep are part of that formula as well, and eliminating stress is huge. Figure out the root of your stress and see how you can change things in your life. Even a routine of meditation can do wonders for the body on many levels.
Which designers are you working with a lot lately?
Some of the shows I do with designers are Simone Rocha, Adam Selman, Hermés, Issey Miyake, Brandon Maxwell, Nina Ricci, Giambattista Valli, Off White, Mugler, Ferragamo, MSGM, Wanda Nylon…
How about photographers?
Inez and Vinoodh, Mario Sorrenti, Glen Luchford, Collier Schorr, Mert + Marcus, Testino, Terry Richardson…
When you're on set, how or when do you know you've got the right look?
You know when it all comes together and becomes magic. Sometimes it is a quick process, and sometimes it takes a looooong time.
Any mishaps you've had to turn around?
There are always mishaps or roadblocks in the road. It just depends on how you choose to deal with it. Sometimes the best things come from unforeseen challenges.
Who cuts your hair?
@adlena cuts my hair; she has worked with me for years. I don't have a say anymore. Sometimes she gives me surprises.
Full closet or fashion minimalist?
I have many of the exact same outfit. Easy for the morning, and travels well. I'm currently living in just shorts and no shoes for as long as I can. Sometimes I wear a hat if the sun's too much.
Tell me about your tattoos. You have a lot of them, and they look super creative.
I probably have too many tattoos. I have gotten them randomly since I was young, but haven't done it in awhile. I like to keep them fun.
Do you have other hobbies besides surfing? How else do you stay in shape?
I love to be active in nature. Running, yoga, cycling. I'm happy to be outside and moving my limbs.
What is your idea of the perfect day?
I have too many ideas about what a perfect day is. I could be in my studio coming up with new ideas, I could be with a rad team doing a cool shoot, or I could be outdoors doing something active with people I care about. Each day has something special to it.
Who would you spend it with?
Probably my dog, Gus, and my wife Kim.
Six Looks From Fashion's Go-To Superstylist James Pecis
Photograph by Dario Catellani, Hair by James Pecis; Styled by Zara Zachrisson at CLM; Makeup by Fara Homidi for Dior at Frank Reps; Models: Sarah Brown and Ania Chiz at The Society; retouching by house tribeca; photography assistants: Fabrizio Amoroso, Max Bernetz, Jake Merrill; fashion assistant: Sara Van Pee
Photograph by Dario Catellani, Hair by James Pecis; Styled by Zara Zachrisson at CLM; Makeup by Fara Homidi for Dior at Frank Reps; Models: Sarah Brown and Ania Chiz at The Society; retouching by house tribeca; photography assistants: Fabrizio Amoroso, Max Bernetz, Jake Merrill; fashion assistant: Sara Van Pee
Photograph by Dario Catellani, Hair by James Pecis; Styled by Zara Zachrisson at CLM; Makeup by Fara Homidi for Dior at Frank Reps; Models: Sarah Brown and Ania Chiz at The Society; retouching by house tribeca; photography assistants: Fabrizio Amoroso, Max Bernetz, Jake Merrill; fashion assistant: Sara Van Pee
Styled by Zara Zachrisson at CLM; Makeup by Fara Homidi for Dior at Frank Reps; Hair by James Pecis for Oribe haircare; Model: Ania Chiz at The Society; Retouching by House Tribeca; photography assistants: Fabrizio Amoroso, Max Bernetz, Jake Merrill; fashion assistant: Sara Van Pee.

Photograph by Dario Catellani
Photograph by Dario Catellani, Hair by James Pecis; Styled by Zara Zachrisson at CLM; Makeup by Fara Homidi for Dior at Frank Reps; Models: Sarah Brown and Ania Chiz at The Society; retouching by house tribeca; photography assistants: Fabrizio Amoroso, Max Bernetz, Jake Merrill; fashion assistant: Sara Van Pee
Watch W's most popular videos here: