Jamie Lee Curtis Is Free to Boast After "Halloween'"s Monumental Success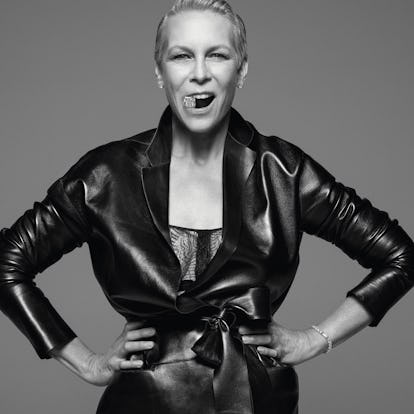 Over the weekend, 40 years after Jamie Lee Curtis's debut film Halloween brought the serial babysitter-murderer Michael Myers to the popular imagination, the most recent sequel, also titled Halloween, entered theaters. Though seven sequels, a remake, and a sequel to the remake all preceded it, Halloween—the 2018 version—can now lay claim to something no other Halloween can: It broke, well, all the records.
Halloween made $77.5 million in U.S. theaters over the weekend, the biggest-ever opening for a slasher movie and the second-biggest R-rated horror film opening, trailing last year's It remake at $123 million. (It, as Quartz pointed out, set the record on a far greater budget—$35 million, compared to Halloween's $10 million.)
So you'll have to forgive star Jamie Lee Curtis for taking a moment to revel in this victory—over the killer, and over the box office. For, as she pointed out in a now-viral Instagram post on Sunday (amid a series of Halloween-themed memes), the film set all these records on the back of a 59-year-old female lead actor.
"OK. I'm going to go for one BOAST post," she wrote in the caption of a photo of herself and costars Judy Greer and Andi Matichak, who play her daughter and granddaughter, respectively. (She tagged both actors, as well as Blumhouse, Miramax, John Carpenter, and NBC Universal, adding the hashtag "#winplaceandshow.") "Biggest horror movie opening with a female lead. Biggest movie opening with a female lead over 55. Second biggest horror movie opening ever. Second biggest October movie opening ever. Biggest Halloween opening ever," she went on. "Couldn't be prouder of ALL who made this creative experiment have such a thrilling result! #womengetthingsdone #threetallwomen #threestrodewomen #strodestrong #timesup." (For what it's worth, the October opening record was also set this year, by Venom.)
In a recent interview with NPR, Curtis said that she hadn't had any intention of doing another Halloween film—her character, Laurie Strode, had already been through the ringer in three of the subsequent sequels, even dying in one of them. But she was enticed back by a novel prospect: the newest Halloween disregards everything that happened in the cinematic universe after the original film. "In this movie, 40 years later, we find really what happens when someone suffers a trauma when they're 17 years old and doesn't get any help," she said. Given the outcome, it's a pretty good thing she decided to return.
Related: Jamie Lee Curtis Can't Stop Posting Halloween-Themed Memes