Serge Gainsbourg and Jane Birkin: A Family Affair
A peek inside the impassioned relationship.
---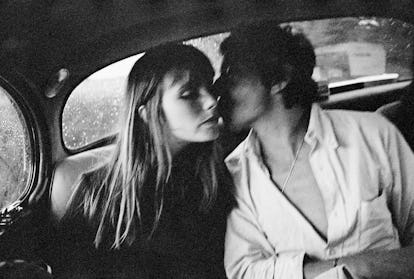 For 12 years, Jane Birkin and Serge Gainsbourg shared a deep and fiery romance that has enthralled generations—but it wasn't love at first sight. "She described him as this ghastly man who was arrogant and made her feel like a worm," recalls Birkin's older brother, Andrew, of their initial meeting on the film set of Slogan in 1968. "A few weeks later, though, I could tell things were aflame." Andrew, who was then an avid photographer and a location scout for Stanley Kubrick's unrealized film project Napoleon, often had a camera slung around his neck—and whenever possible, he trained it on the photogenic couple; their daughter, Charlotte; and Kate, Jane's eldest child with the composer John Barry. Shooting mostly in black and white, he candidly captured them at home in Paris on the Rue de Verneuil, vacationing on the Isle of Wight in England, and among friends at the legendary nightclub owner Régine Zylberberg's house in Deauville. "Andrew was very present on holidays but not omnipresent on private flings, thank God," Birkin says. The intimate shots—which date through 1979, the year before Birkin and Gainsbourg broke up—have been compiled into Jane and Serge, A Family Album ($60, taschen.com). Among other things, the book reveals a comedic side to Gainsbourg that was rarely, if ever, seen in public. One of Andrew's favorite photos is a portrait in profile of the bulbous-nosed singer with his bull terrier, Nana. "He said she made him look beautiful by comparison," Andrew recalls with a chuckle.
Jane and Serge: A Family Album
Jane Birkin and Serge Gainsbourg. Photos by Andrew Birkin/courtesy of Taschen
Gainsbourg, reading a quote in the newspaper, where he says about Birkin, "You are not my wife, darling—I love my liberty too much," 1974. Photos by Andrew Birkin/courtesy of Taschen
Charlotte Gainsbourg, 1977. Photos by Andrew Birkin/courtesy of Taschen
Gainsbourg and his dog Nana, 1977. Photos by Andrew Birkin/courtesy of Taschen
Birkin, Gainsbourg, and Régine Zylberberg in Deauville, France, 1969. Photos by Andrew Birkin/courtesy of Taschen