Jane Fonda and Gloria Steinem Have Some Thoughts About the Post-Harvey Weinstein World
Of course these queens do.
---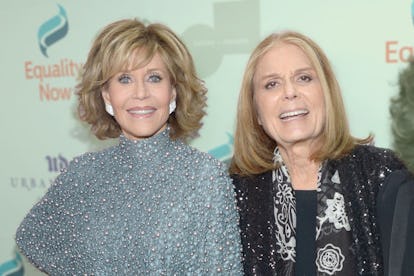 Composite. Matt Winkelmeyer/Getty Images
As two of the most remarkable ladies to ever grace this earth, Jane Fonda and Gloria Steinem have always been leading figures in regard to their no-nonsense, championing opinions on women's rights. Unsurprisingly, this means they've been asked to weigh-in on the ongoing Harvey Weinstein scandal, who was accused earlier this month as being a serial sexual assaulter and harasser with a seemingly ever-growing list of victims in Hollywood. Swinging by All In with Chris Hayes last night to expound on their thinking, Fonda explained that despite reaching a point of no return for Weinstein and other Hollywood sexual harassers, there's still a lot to be done about getting even more voices heard.
"It feels different. It feels like something has shifted," Fonda said about the near-constant Weinstein allegations coming out almost every day. "It's too bad that it's probably because so many of the women that were assaulted by Harvey Weinstein are famous and white and everybody knows them. This has been going on a long time to black women and other women of color and it doesn't get out quite the same. I think it's so huge, this story, and so much is coming out that it went out for so long over so many countries. It's made a big difference to the women who have come forward."
Steinem also agreed that we've finally reached a "tipping point" when it comes to appropriately reprimanding sexual harassers, and she understands why it's taken so long to get to this moment — it boils down to a strong bias against the accusers. "If you steal money, you probably get arrested and convicted, because everybody says stealing is wrong. But if you do something that is very sexist or racist, because there still is a critical mass of bias in this country, it takes more cumulative instances for it to be recognized," she explained. "The important thing to remember is that it's about power, and the idea you have to dominate in order to be sexual. That's the fundamental problem."
As of now, over four dozen women have bravely shared their stories about being harassed or assaulted by Weinstein throughout their respective careers.
Related: Jane Fonda Has Zero Tolerance for Megyn Kelly's Plastic Surgery Questions
Jane Fonda Talks About Being a Fashion Icon:
Jane Fonda, Actress and Activist, Is a Style Chameleon
Jane Fonda had style right from the start—as evidenced by this chambray shirt and pants ensemble in 1956.
Photo by Getty Images
Kate Middleton may have wowed onlookers with her post-pregnancy style, but it's hard to beat the red coat and knee-high boots Fonda wore leaving Paris's Belvedere Hospital with her new daughter Vanessa in 1968.
Photo by Getty Images
A black hat, big sunglasses, and boot-cut Levi's? Jane Fonda invented easy, off-duty style.
Photo by Getty Images
Quintessentially '80s, the actress's fuchsia blazer, floral bustier, and super-high-waisted trousers were surely a hit at the American Film Institute celebration of Gregory Peck in 1989.
Photo by Getty Images
Fonda embraced the early '90s in the decade's best trends—a windbreaker, red turtleneck, and big, curly hair—at StanleyK. Sheinbaum's 70th birthday celebration.
Photo by Getty Images
Stepping out with her third husband Ted Turner, Fonda was a vision in a black and white checked print gown and black silk gloves at the 1995 Academy Awards.
Photo by Getty Images
Later that year, the actress epitomized Beverly Hills-chic at the Television Critics Association Awards Dinner with a white high-necked dress, beige pumps, and brown sunglasses.
Photo by Getty Images
Easing back into the spotlight after a nearly 10-year hiatus from acting, Fonda stunned in a simple black dress and gloves at the 2004 Golden Globe Awards.
Photo by Getty Images
Aside from her acting and activism, Fonda is known for being a fitness fanatic. So it's no wonder she's continued to embrace form-fitting styles, like this all-black look from 2011. If you've got it, flaunt it.
Photo by Getty Images
Over the past few years, the actress has adopted a more covered-up approach to red carpet wear—without sacrificing style, of course. In a zebra-printed jacket and black flared pants at the 2011 Women in Entertainment Breakfast, Fonda stole the show.
Photo by Getty Images
The actress gave the younger generation at run for their money at the 2013 Berlin International Film Festival in a gold sequin dress and coordinating tan fur. Stay golden, Jane.
Photo by Getty Images
"I took one look at that Balmain jumpsuit, and I said, 'That's it!'" Fonda explains in W's June/July issue. When you know, you know.
Photo by Getty Images