Jane Fonda Has Taken Herself Off the Market and Is No Longer Dating
"I've closed up shop down there."
---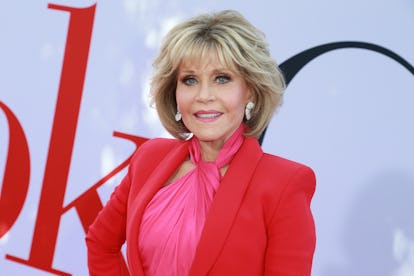 Leon Bennett/Getty Images
As far as aging gracefully goes, there's few role models better than Jane Fonda. The Oscar-winning actress, currently making the world a funnier place on Netflix's Grace and Frankie, has always embraced her age, famously saying, "You could not pay me to be young again." In the past Fonda has attributed her zealous for life past her 40s to sex — telling Shape "I owe 30 percent to my genes [and] 30 percent to good sex" — but, now, at 80 years old, Fonda has moved on.
Like, completely. The former model and fitness guru has shared that she has taken herself off the dating market for good. "I'm not dating anymore, but I did up until a couple of years ago," she told Extra. "I'm 80. I've closed up shop down there."
The last update Fonda gave on her love life was in December, ahead of her 80th birthday, when she told Vanity Fair that "I'm single, which makes me very happy." The comment came in the wake of her split from record producer Richard Perry, who she dated for almost a decade. At the time, Perry categorized their separation not as a breakup but as "a shift in the direction of our lives," as E! reported. "I hate to say the romantic relationship is over," he said. "We're definitely extremely good friends. We do things together. We care about each other a great deal and as far as romantic relationships, that's temporarily been put on the back burner because she, as you probably know, has rededicated herself to activism. We definitely have a great deal of love for each other."
Fonda confirmed the same prior to their parting, telling The Sun, "At 74, I've never had such a fulfilling sex life. The only thing I have never known is true intimacy with a man… I absolutely want to discover that before dying. It has happened with Richard, I feel totally secure with him. Often, when we make love, I see him as he was 30 years ago."
Honestly, though, who can blame Fonda for wanting to be single for the remainder of her life. After all, the world's previously oldest woman, who reached 116 years old, said she did so by never being "bothered with men."
Related: Jane Fonda Thought She'd Be Gardening When She Was 80, Instead She's Protesting
Jane Fonda, Actress and Activist, Is a Style Chameleon
Jane Fonda had style right from the start—as evidenced by this chambray shirt and pants ensemble in 1956.
Photo by Getty Images
Kate Middleton may have wowed onlookers with her post-pregnancy style, but it's hard to beat the red coat and knee-high boots Fonda wore leaving Paris's Belvedere Hospital with her new daughter Vanessa in 1968.
Photo by Getty Images
A black hat, big sunglasses, and boot-cut Levi's? Jane Fonda invented easy, off-duty style.
Photo by Getty Images
Quintessentially '80s, the actress's fuchsia blazer, floral bustier, and super-high-waisted trousers were surely a hit at the American Film Institute celebration of Gregory Peck in 1989.
Photo by Getty Images
Fonda embraced the early '90s in the decade's best trends—a windbreaker, red turtleneck, and big, curly hair—at StanleyK. Sheinbaum's 70th birthday celebration.
Photo by Getty Images
Stepping out with her third husband Ted Turner, Fonda was a vision in a black and white checked print gown and black silk gloves at the 1995 Academy Awards.
Photo by Getty Images
Later that year, the actress epitomized Beverly Hills-chic at the Television Critics Association Awards Dinner with a white high-necked dress, beige pumps, and brown sunglasses.
Photo by Getty Images
Easing back into the spotlight after a nearly 10-year hiatus from acting, Fonda stunned in a simple black dress and gloves at the 2004 Golden Globe Awards.
Photo by Getty Images
Aside from her acting and activism, Fonda is known for being a fitness fanatic. So it's no wonder she's continued to embrace form-fitting styles, like this all-black look from 2011. If you've got it, flaunt it.
Photo by Getty Images
Over the past few years, the actress has adopted a more covered-up approach to red carpet wear—without sacrificing style, of course. In a zebra-printed jacket and black flared pants at the 2011 Women in Entertainment Breakfast, Fonda stole the show.
Photo by Getty Images
The actress gave the younger generation at run for their money at the 2013 Berlin International Film Festival in a gold sequin dress and coordinating tan fur. Stay golden, Jane.
Photo by Getty Images
"I took one look at that Balmain jumpsuit, and I said, 'That's it!'" Fonda explains in W's June/July issue. When you know, you know.
Photo by Getty Images