Janelle Monáe Opens Up About Her Sexuality in New Interview
Janelle Monáe has come out in a new interview with Rolling Stone.
---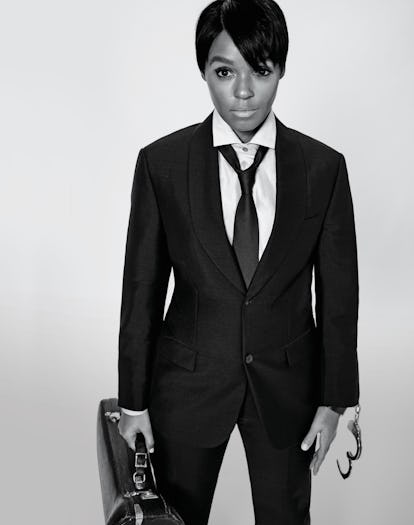 Starring Janelle Monae; Directed by Jordan Peele; Photographs by Collier Schorr; Styled by Sara Moonves; Hair by Nikki Nelms at Impaq Beauty; makeup by Dick Page at Statement 
Artists; manicure by Michelle Saunders for Essie at Forward Artists. Set 
design by Nicholas Des Jardins at Streeters. Lighting Design by Christopher Bisagni for Christopher Bisagni Studio; Retouching by two three two; Produced by Connect The Dots; Digital Technician: Jarrod Turner; Photography Assistants: Tim Mahoney, Alex Gay, Andrew Tonkery, Jared Fix; Fashion Assistants: Allia Alliata, Sam Walker, Nadia Beeman; Tailor: Lydia Jakubowski; Producer: Wes Olson; Production Coordinator: Kaitlyn Fong; Production Assistants: Ben Kilpatrick, Nikki Patrlja, Cedric Adajar; Special Thanks to Ian Cooper, Monkeypaw Productions, Heirloom LA, Quixote, Samys, Milk LA
After enduring many years of speculation about her sexuality — most recently thanks to a music video that celebrates "creation, self-love, sexuality, and pussy power!" featuring her rumored girlfriend Tessa Thompson — Janelle Monáe is coming out on her own terms.
In a revealing new interview with Rolling Stone, Monáe confirmed that she personally identifies with tenets of both pansexuality and bisexuality. "Being a queer black woman in America, someone who has been in relationships with both men and women — I consider myself to be a free-ass motherf*cker," she told the magazine. While she initially believed this line of thinking meant she was bisexual, "later I read about pansexuality and was like, 'Oh, these are things that I identify with too.' I'm open to learning more about who I am."
For privacy reasons, she demurred on saying who she's dated in the past or who she's dating currently. But she did share the genesis behind her androgynous, robotic-heavy public persona, which was created as somewhat of a defense mechanism to prevent people from looking too much into her private life. In fact, she believe she needed this persona as a black woman in the industry: "It had to do with the fear of being judged. All I saw was that I was supposed to look a certain way coming into this industry, and I felt like I [didn't] look like a stereotypical black female artist."
By publicly identifying herself as a queer black woman, Monáe knows she's in a unique position to speak to minority communities who don't easily have access to role models like herself. And with her new album, Dirty Computer, she hopes that spirit will shine through. "I want young girls, young boys, nonbinary, gay, straight, queer people who are having a hard time dealing with their sexuality, dealing with feeling ostracized or bullied for just being their unique selves, to know that I see you," she explained. "This album is for you. Be proud."
Janelle Monáe Stars in "Noir Town," Directed by Jordan Peele
Janelle Monáe wears a Burberry trenchcoat, vest, pants, and tie; Giorgio Armani shirt; Cartier watch; Robert Clergerie shoes. Beauty: Lancôme. Directed by Jordan Peele.
Janelle Monáe wears a Burberry suit; Fabiana Filippi shirt; Cartier watch.

Starring Janelle Monae; Directed by Jordan Peele; Photographs by Collier Schorr; Styled by Sara Moonves;
Starring Janelle Monae; Directed by Jordan Peele; Photographs by Collier Schorr; Styled by Sara Moonves;
Starring Janelle Monae; Directed by Jordan Peele; Photographs by Collier Schorr; Styled by Sara Moonves;
Far left: DSquared2 suit; the Row shirt; Nick Fouquet hat; Boss tie. Near left: Valentino tuxedo and blouse; Brioni tie; Cartier watch.

Starring Janelle Monae; Directed by Jordan Peele; Photographs by Collier Schorr; Styled by Sara Moonves;
Valentino tuxedo and blouse; Brioni tie; Cartier watch.

Starring Janelle Monae; Directed by Jordan Peele; Photographs by Collier Schorr; Styled by Sara Moonves;
Etro jacket and pants; Charvet shirt; Goorin Bros. hat; Perrin Paris gloves.

Starring Janelle Monae; Directed by Jordan Peele; Photographs by Collier Schorr; Styled by Sara Moonves;
Etro jacket and pants; Charvet shirt; Goorin Bros. hat; Perrin Paris gloves.

Starring Janelle Monae; Directed by Jordan Peele; Photographs by Collier Schorr; Styled by Sara Moonves;
Burberry trenchcoat, suit, vest, and tie; Giorgio Armani shirt; Cartier watch.

Starring Janelle Monae; Directed by Jordan Peele; Photographs by Collier Schorr; Styled by Sara Moonves;
Burberry trenchcoat, suit, vest, and tie; Giorgio Armani shirt; Cartier watch.

Starring Janelle Monae; Directed by Jordan Peele; Photographs by Collier Schorr; Styled by Sara Moonves;
Michael Kors Collection jacket and pants; 
Charvet shirt; Oliver Peoples glasses.

Starring Janelle Monae; Directed by Jordan Peele; Photographs by Collier Schorr; Styled by Sara Moonves;
Janelle Monáe wears a Valentino tuxedo and blouse; Brioni tie; Cartier watch; Goyard briefcase.

Starring Janelle Monae; Directed by Jordan Peele; Photographs by Collier Schorr; Styled by Sara Moonves; Hair by Nikki Nelms at Impaq Beauty; makeup by Dick Page at Statement 
Artists; manicure by Michelle Saunders for Essie at Forward Artists. Set 
design by Nicholas Des Jardins at Streeters. Lighting Design by Christopher Bisagni for Christopher Bisagni Studio; Retouching by two three two; Produced by Connect The Dots; Digital Technician: Jarrod Turner; Photography Assistants: Tim Mahoney, Alex Gay, Andrew Tonkery, Jared Fix; Fashion Assistants: Allia Alliata, Sam Walker, Nadia Beeman; Tailor: Lydia Jakubowski; Producer: Wes Olson; Production Coordinator: Kaitlyn Fong; Production Assistants: Ben Kilpatrick, Nikki Patrlja, Cedric Adajar; Special Thanks to Ian Cooper, Monkeypaw Productions, Heirloom LA, Quixote, Samys, Milk LA