Janelle Monáe Practically Gives Birth to Tessa Thompson in Her New "Pynk" Video
Twitter can't stop freaking out over her so-called "labia pants."
---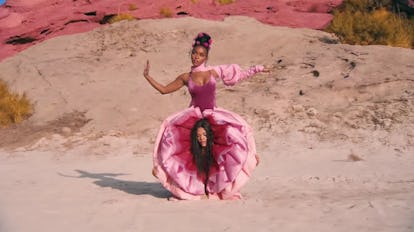 Courtesy of Janelle Monáe
On Tuesday afternoon, Janelle Monáe released "Pynk," the latest song from her upcoming visual album (which she's calling an "emotion picture"), Dirty Computer. The song features Grimes and comes complete with a new video, directed by Emma Westenberg, that describes itself as a "brash celebration of creation. self love. sexuality. and pussy power!"
Get a glimpse at simply a still from the video and you'll see that the above is true. (Along with the rest of the description, repeated in the lyrics: "PYNK is the color that unites us all, for pink is the color found in the deepest and darkest nooks and crannies of humans everywhere… PYNK is where the future is born.")
Besides the lyrics, though, the visuals provide more than enough evidence: The video starts off with Monáe pulling up in a pastel pink convertible to a "Pynk rest inn" surrounded by pink rock formations. Before long, she and her crew have made a formation themselves, opening and closing their legs to the beat of song.
While two of the group are simply wearing pink leotards, Monáe and four others have notably topped theirs off with billowing pairs of pink pants that undeniably resemble vulvae, leading Twitter to christen them "labia pants." With all eyes already on the pants, then, when it comes time for the actress Tessa Thompson, Monáe's partner in crime and apparent love interest throughout the album, to make her obligatory appearance, what better place is there than smack dab in the middle of Monáe's pants?
If we're getting anatomically correct here—the accurate term, for example, is vulva pants, but that doesn't have quite as nice of a ring to it—Thompson is definitely placed in more of a position to be Monáe's clitoris than her baby, as some have been pointing out on Twitter. (Along with the fact that focusing on vaginas and "pussy power" when advocating female empowerment actually excludes trans women.) Decide for yourself by watching the video above and hearing from some of those already weighing in below.
Related: Janelle Monáe's Dirty Computer Trailer Is Full of Symbolic Looks You May Have Missed