Jared Leto Hitchhiking Across America Is the Most Jared Leto Thing Ever
The actor is on an "adventure" across America.
---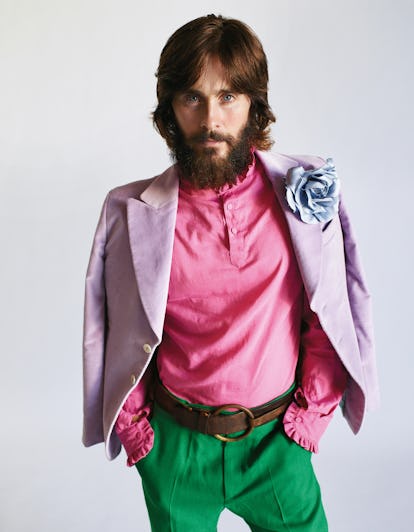 SORRENTI MARIO
These days, album releases are mostly marked by talk show appearances and social media posts. Jared Leto, though, is taking it one step further. The actor is currently hitchhiking across America to promote his band Thirty Seconds to Mars' album, appropriately titled America, which drops this Friday.
Yes, the next hitchhiker you come across could be the Oscar-winning actor. Leto opened up about the journey to Ryan Seacrest, telling the radio host, "It's a pretty big adventure. I'm going to hitchhike, among other things, across the country from New York City to Los Angeles. I'm going to jump on a donkey in the Grand Canyon or take a hot air balloon."
Why the "adventure"? "It's better than putting out a press release," Leto told the Chicago Tribune after performing at the city's Willis Tower Skydeck. "We worked five years on this album, so we thought we'd do something a little more fun, a little more adventurous."
So far, he's made a few friends along the way. "Today, I was in Ohio and I met a trucker from Milwaukee," he told the Tribune. "He took me on a ride in the 18-wheeler. He was great. He shared his thoughts about America and the current climate, and his hopes and his dreams. It's really beautiful to get out and see what people are really thinking and not what we see on the news every day, and not what's making the headlines necessarily."
Leto has also hitchhiked in Wisconsin, as he revealed to Good Morning America per ABC. "It's been a mad dash," he said. "It's been really great. I hitchhiked yesterday and got picked up by a trucker from Wisconsin and it was great just to hear his story, to hear his thoughts on America, and it's certainly eye-opening and you meet such incredible people across the country. It's amazing."
As for his fixation on America, Leto revealed to Entertainment Weekly that he "always wanted to make an album based on the concept of America—to explore the good, bad, and the ugly."
"It's a really important time in our country," he said. "There is a lot to talk about. We are in a period of great change, of instability, of uncertainty, but also of hope and possibility." Let us all hope that the next time we see someone flagging down a car on the side of the road, it's Jared Leto.
Related: Blade Runner 2049 Star Jared Leto Is Really Into the Fashion at Renaissance Fairs
A Brief History of Jared Leto's Love Affair with Ponchos and Capes, from the VMAs To Ischgl, Austria
A floral blouse, sparkly sneakers, ripped jeans, dark sunglasses, and man bun would have been enough to attract attention on their own, but Leto turned even more eyes when he topped all that off at the 2017 VMAs with a glittery Gucci cape that no doubt made his bud Alessandro Michele proud.

Frazer Harrison/Getty Images
True fans of Leto would have seen his VMAs look coming: After all, it was only a couple of months ago, in June, that Leto turned up to the Firefly Music Festival in Delaware to perform with Thirty Seconds to Mars in not just a full-length green floral dress, but also a fringed cape that came complete with embroidered Gucci bunny rabbits.

Kevin Mazur/Getty Images
A week after stepping out in this Burning Man-appropriate number in Paris, Leto wore the poncho once again in New York in October of 2015, this time pairing it with graphic jogging pants that, with his fading pink hair, served to paint quite the rainbow.

Robert Kamau/Getty Images
Even while in Ischgl, Austria, which is exactly where Leto found himself with his band in May of 2015, Leto repped his garment of choice, this time accessorizing it with not just a guitar, but what appears to be a stuffed gazelle hat, too.

Jan Hetfleisch/Getty Images
Leto, just like Jon Snow, knows the allure of a fur cape, though given that he was performing in London in September, rather than weathering a never-ending winter, he could afford to pair his version with jeans when he performed at the iTunes Festival back in 2013.

Annabel Staff/Getty Images
Okay, this may appear to simply be a cotton-y take on a classic leather biker jacket. But give it a closer look, and it transpires that even when Leto was in his relatively natural hair days back in 2011, he was in fact rocking an early, baggy predecessor of the poncho, unzipped to reveal a white tank top whose jarring normality he balanced with a pair of velcro sneaks.

Christopher Peterson/Getty Images
His newfound relationship with Michele may make Leto appear to be a fashion newbie, but he was in fact attending the New York shows all the way back in 2011, when they were still held at Lincoln Center. And while we were at that point past the tents at Bryant Park, it was still chilly enough that February for Leto to wear not just a jean jacket and a baggy pair of knit mittens, but of course a poncho on top of all that, too.

Gustavo Caballero/Getty Images
His attentiveness to the weather, something even rarer than a poncho in the industry, hardly stopped Leto from being a star that season: He wore the look not once, but twice that season, with one of the occasions apparently eliciting Kanye's rare seal of approval.

Jamie McCarthy/Getty Images