Jasmine Tookes Was Proposed To Via Drone
Snapchat exec Juan David Borrero asked the Victoria's Secret model to marry him with a drone.
---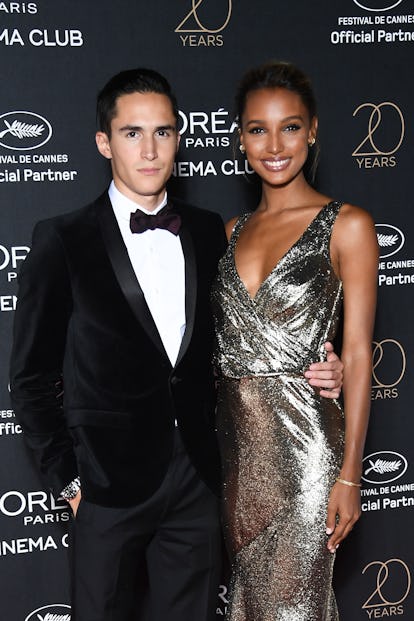 During European olden times, fairy tale romance involved princes and princesses. In modern America, they consist of Victoria's Secret models and tech execs. And Jasmine Tookes' engagement to Snapchat exec Juan David Borrero sounds like nothing but a very modern fairy tale. For one thing, it involved the seven-carat ring being delivered via drone.
29-year-old California native Tookes, both a veteran of high fashion runways and a one-time wearer of the VS fantasy bra, announced her engagement on Instagram with a shot of the ring. According to People, it's an oval-cut diamond set in an 18-karat gold band designed by jewelry house Ritani.
Though, in an interview with Vogue, Tookes added some surprising details to the moment. Tookes woke up on Monday and was told to pack her bags for a surprise. The itinerary involved a blindfolded car ride the airport, a private plane trip that included catering by Popeye's ("We ate chicken tenders and drank champagne until we landed in Page, Arizona," the model told Vogue), and then, finally, a helicopter trip to Utah.
There, Tookes spotted the letters "WYMM?" spelled out in rock (short for "Will You Marry Me?" obviously). "As I was processing this, I heard a drone flying from above which had a string hanging from it with a small black pouch below. This is how the ring was delivered to him," added Tookes.
That's one way to ensure social distancing.
Tookes, the daughter of a stylist, premiered as a model in 2011 and after an early blessing from none other than Oprah Winfrey, was soon a regular on the runways of Europe and in the page of magazines including W. She ascended to the ranks of VS Angel in 2015, and wore the $3 million fantasy bra a year later. Forbes estimates that Tookes is one of the highest-paid models in the world.
Ecuadorian-born Borrero, 30, meanwhile, is no slouch. He was Snapchat's 23rd employee, and the Stanford grad is currently the company's director of international markets. (In case you're wondering, yes, the pair is close with the other Victoria's Secret/Snapchat couple: Miranda Kerr and CEO Evan Spiegel).
Borrero and Tookes have been dating for a number of years, and their globetrotting travels (as well as trips to festivals like Burning Man in Nevada and Ultra in Miami) are often chronicled on Borrero's Instagram. The couple's wedding date is still to be determined.