Jaume Plesna's Echo in Madison Square Park
In Manhattan's Madison Square Park yesterday morning, all eyes, cameras, and fingers pointed at Spanish artist Jaume Plesna's Echo, a 44-foot sculpture that appears as if it grew from the grass itself. "Frankly, it's...
---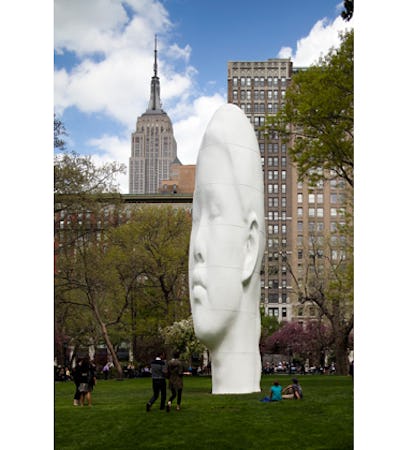 "Frankly, it's just amazing," said Kate Levin, the city's Cultural Affairs Commissioner.
Echo is the largest monolithic piece to be displayed in the seven years of Madison Square Art, the park's public contemporary arts program—and the costliest installation. Made of marble gel-coated, fiberglass-reinforced plastic, the visage's features are fashioned after a nine-year-old girl who, for Plensa, represented the borderless world today (her mother is Chinese, she was born in Brazil, and lives in Catalonia, where Plesna discovered her). It has a candescence in the day, with height to parallel the verticality of the park's surroundings.
"Today we are ourselves in a similar situation, that we are just the echo of something else," Plensa told me at the opening, perhaps referring to the onslaught of unsourced info we digest via various media. "Everything that we think is a part of us, they are not."
*Echo will be on view on the central Oval Lawn of Madison Square Park until August 14, 2011.*
—Rebecca Vicino