Jean Genies: Christopher Kane & J Brand Team Up for Barneys Co-op
Considering he's known for neon, it's no surprise that Christopher Kane's Resort 2012 collaboration with J Brand looks like a box of highlighters. "I wanted people to stand up at attention. [Neon] is part...
---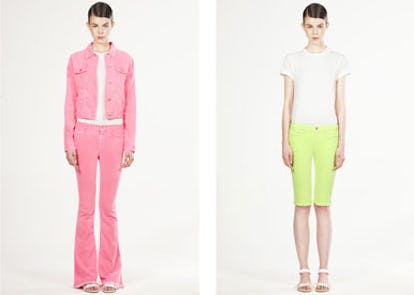 Reporters learned that French fries are his favorite American junk food, that he thinks it's a "shame" that Kate Middleton isn't working with more designers, and that the Duchess of Cambridge should be more like Michelle Obama. Kane said he "actually gets high off of working," and that he "learned fashion from TV" while growing up in Scotland. Apparently, True Blood and Walking Dead are among his current favorites, though not many traces of either moody TV show could be seen in this collection. Still, more demure dressers can still find classic denim options in black, white, and blue represented.
The Christopher Kane/J Brand collaboration is in store now and will be available on Barneys' site on Saturday.