From the Sidewalk to the Catwalk… and then to Brooklyn
Jean Paul Gaultier's traveling exhibition crosses the bridge
---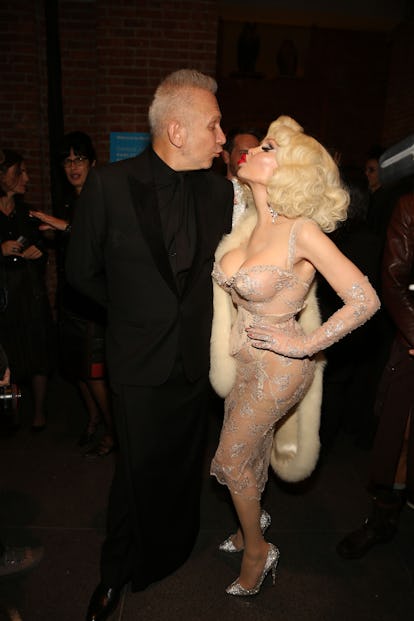 What: A VIP reception celebrating the opening of "The Fashion World of Jean Paul Gaultier: From the Sidewalk to the Catwalk" in New York.
When: Wednesday, October 23
Where: The Brooklyn Museum
Who: Jean Paul Gaultier was joined by many muses—Beth Ditto, Karlie Kloss (who owned the designer's Spring 2014 runway show in Paris), Amanda LePore, and Coco Rocha—as well as fellow designers Calvin Klein, Sophie Theallet, and Christian Siriano. No one, however, was more appropriately attired than the legendary Susanne Bartsch.
Why: This may not be the first opening celebration for this particular exhibition, which originated in Montreal, but lets be honest: talking mannequins and pointy bras projections never get old.
Photos: From the Sidewalk to the Catwalk… and then to Brooklyn
Jean Paul Gaultier and Amanda LePore
Thierry Loriot and Calvin Klein
Randy Jones and Sally Jesse Raphael
June Ambrose and Jay Manuel
Farida Khelfa and Thierry Loiret
"The Fashion World of Jean Paul Gaultier: From the Sidewalk to the Catwalk"