Jeff Goldblum and James Corden's "Thank U, Next" Parody Is Really Something
Down to Goldblum's Kris Jenner impression.
---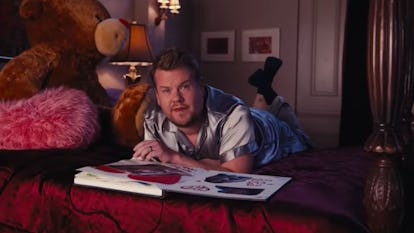 YouTube
Ariana Grande's "Thank U, Next" isn't just a great song; it's also a great canvas for parody. Jeff Goldblum and James Corden confirmed that when the pair riffed on the pop singer's latest single, coming up with something just as amazing as the original.
Titled "Thank U, Jeff," the parody, which premiered last night on The Late Late Show, keeps the melody and flow of Grande's breakup song with 100 percent more Goldblum. It starts off with Corden expressing his gratitude to Goldblum for the actor coming on the show and, well, just being himself. "We should be saying thank you, Jeff," Corden says, before launching into song.
The video then cuts to the talk show host clad in the same silk pajamas in a similarly staged Mean Girls–referencing bedroom, browsing through his Burn Book on the bed. "First saw him in The Fly/ His face was grotesque," Corden sings. "Then he won independence from an alien mess/ And in Thor: Ragnarok, his performance was classic/ But who could forget the hot doctor he played in Jurassic."
Cut to the scene of Goldblum shirtless in Jurassic Park—the one that inspired a larger-than-life statue in London earlier this year—and Corden launches into the bridge: "He taught me love/ He taught me patience/ He taught me pain/ Jeff Glodblum's amazing. He's a silver fox, with black thick-rimmed glasses/ The way that he talks will charm off your asses."
As for the chorus, it deviates between "Thank you Jeff/ He's so frickin' scared of that T-Rex," "Thank you Jeff/ I'm so frickin' grateful for his pecs," and "Thank you Jeff/ You can bet that he has tons of sex."
Corden also manages to check off Goldblum's own musical talent, singing with Goldblum at the piano, "He does more than just act/ Plays a mean jazz piano/ When he tickles those keys/ I just don't understand, bro."
In case his feelings for Goldblum aren't clear at that point, he goes one step further: "I interview a lot of celebs/ Forget the rest/ 'Cause I think Jeff Goldblum is my favorite guest/ There's no better man at character acting/ He's over six feet/ He's the complete package."
All the while Goldblum plays Kris Jenner's role in the Grande video, camcorder-ing it all. As Grande sings in the original, "This song is a smash."