Facet Forward
Jemma Wynne's designers discuss their first diamond collection
---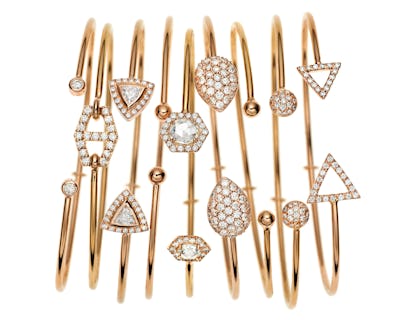 I recently toured the Jemma Wynne studio in New York City with designers Stephanie Wynne Lalin and Jenny Klatt and got a peek at their first all-diamond collection, Covet. The pieces range from delicate rosecut diamond earrings, initial pendant necklaces, and stackable bracelets, which are all very feminine and personal, with a bit of an edge.
Here, the designers share some insight into their collection.
How do you collaborate together to create your collections? Jenny Klatt: It's is a really fun process! We are both self-taught artists, so one of us will come up with a concept and Stephanie will sketch it out and then we edit everything together. There is a lot of back and forth to make it perfect and as a result, our finished product is a design that infuses both of our styles into the piece.
How would you describe your aesthetic? Stephanie Wynne Lalin: Modern, Understated luxury Jenny Klatt: Casual, Versatile, Effortless
What inspires you? Both: Living in NYC has a major influence and that is where we draw most of our inspiration. We define our aesthetic as the "cashmere hoodie" of jewelry—it's rich, but comfortable.
Who are your jewelry icons? Both: Diane Von Furstenberg. The way she wears her jewelry always looks effortless and chic. She is a lover of yellow gold and bangles, two things that are staples in our collection.
What pieces do you never leave the home without? Stephanie Wynne Lalin: Bangle stack, always odd numbers: 1,3 or 5! My engagement ring, wedding band, and small studs. Jenny Klatt: A lapis tablet necklace with my daughter's initial, wedding band stacked with rings, and bangle stack of course!
What is the most popular piece in your collection? Both: One of the first bangles we ever designed remains the most popular piece in the collection- it has two pave diamond pears that face inward.
Bangles in 18k rose gold and diamonds. $995 – $9,870, at jemmawynne.com
18K gold earrings with rosecut and pave diamonds, $7,560, at jemmawynne.com
18k gold 'S' tablet necklace with striped chalcedony and pave diamonds, $7,560. 18k gold 'L' tablet necklace with turquoise and pave diamonds, $7,560, both at jemmawynne.com
18k gold necklace with rosecut and pave diamonds, $5,145, at jemmawynne.com