Bristol Statue of Slave Trader Replaced by Black Lives Matter Protester
Artist Marc Quinn has memorialized the moment Jen Reid climbed atop the empty plinth and raised her fist.
---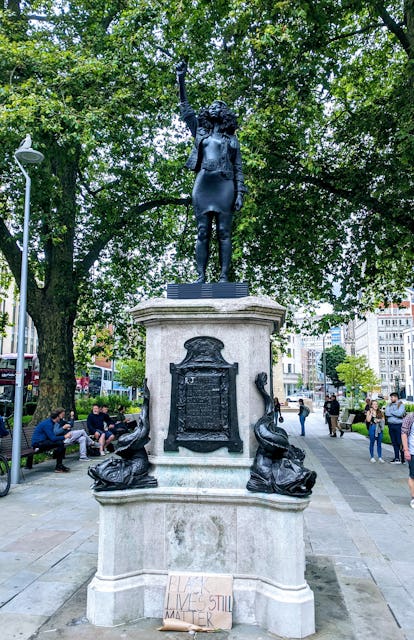 Alex Richard
On the night of June 7, a Bristol resident named Jen Reid climbed atop an empty plinth and raised her fist. Several hours earlier, its former occupant had found a new home at the bottom of the Bristol harbor, thanks to Black Lives Matter protesters like Reid. Now, more than a month later, Reid's likeness has returned to the plinth—this time in black resin, as part of a temporary, unauthorized installation by the artist Marc Quinn.
A Surge of Power (Jen Reid) replicates a photo taken of Reid at a moment she describes as "totally spontaneous," in the hours after the statue of Edward Colston, a 17th-century merchant who trafficked enslaved people, had toppled. "It was like an electrical charge of power was running through me," Reid said in a joint statement with Quinn. "My immediate thoughts were for the enslaved people who died at the hands of Colston and to give them power. I wanted to give George Floyd power, I wanted to give power to Black people like me who have suffered injustices and inequality. A surge of power out to them all."
Quinn came to prominence in the 1990s, alongside fellow "Young British Artists like Sarah Lucas, Tracey Emin, and Damien Hirst. Since then, he's dabbled in public art, and his "first, instant thought" upon seeing the photo of Reid was to turn it into a sculpture. After reaching out to her on social media, the pair decided to collaborate.
"Jen and I are not putting this sculpture on the plinth as a permanent solution to what should be there—it's a spark which we hope will help to bring continued attention to this vital and pressing issue. We want to keep highlighting the unacceptable problem of institutionalized and systemic racism that everyone has a duty to face up to," Quinn said. "This sculpture had to happen in the public realm now: this is not a new issue, but it feels like there's been a global tipping point. It's time for direct action now."
If the statue is sold, Quinn plans to donate the proceeds to two charities of Reid's choosing: Cargo Classroom, a Black history syllabus for Bristol teens, and The Black Curriculum, an initiative addressing the lack of Black history in the official U.K. Curriculum. But its future remains unknown; Quinn installed the statue in secret in the early hours of Wednesday, with "no formal consent."
Bristol mayor Marvin Rees has since issued a statement, describing the statue as "the work and decision of a London-based artist" that was not requested, and erected without permission. Still, it sounds like the work has a good chance of sticking around. "The future of the plinth and what is installed on it must be decided by the people of Bristol," Rees continued. So far, the graffiti altering "erected" to "rejected" on its plaque—which describes Colston "one of the most virtuous and wise sons of their city"—has yet to disappear.
Related: Artists Turn to the Skies to Bring Awareness to Detention Centers Around the Country