Jenna Lyons's New Beauty Venture Gets Personal
The fashion designer and former J. Crew executive has linked with makeup artist Troi Ollivierre to create a line of everyday faux lashes, LoveSeen.
---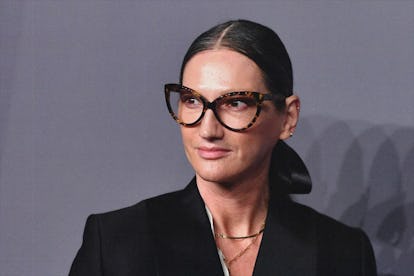 Photo by ANGELA WEISS/AFP via Getty Images
Jenna Lyons, fashion's former powerhouse and the one-time creative director and president of J. Crew, has returned to the public eye—this time, in the beauty sphere.
Lyons, along with her former J. Crew collaborator makeup artist Troi Ollivierre, debuted a new collection of lashes, called LoveSeen, on Monday.
For Lyons, this foray into beauty is more than just a business move. It's personal. The designer suffers from a rare genetic disorder that causes her hair to fall out and scars her skin. "Since I don't have any lashes of my own, this makes me hyper-focused on what makes them beautiful and how transformative they can be," Lyons said. "That being said, what I was looking for wasn't currently available, so I felt there was a possibility to create a space of my own."
The creative duo saw a gap in the market to fill: while there were plentiful offerings of long, full, and dramatic lashes for evenings out, there were few-to-no options of lashes for everyday use, in multi-tones, shades, and hues that look more natural and seamless, for all complexions.
She and Ollivierre spoke in further detail about the arrival of their new lash line, detailing their hopes that it would demystify the daunting lash process while empowering their clients' varied beauty looks.
Sometimes people can shy away from putting on lashes. What do you say to someone who is considering using lashes to change or enhance their look?
JL: In this area, I'd like to show people different options and demystify the process to show them that, yes, you can get lashes and you can play with them in a natural-looking way. You can use these tools. It's not complicated and it's okay to play them up or down. I hope that I can convey the message of credibility in this approach to beauty. Instagram, at times, has shifted people's perspective on the idea of being perfect. We had this big uprising about retouching and now there's a whole different approach—there are a lot of people obsessed with retouching.; on a deeper level, not just their look, but sometimes their lives, for that matter. When you look at Chrissy Teigen or Celeste Barber, there's that real honesty in their approach, which I love. It's so refreshing.
Troi, are these lashes easy to apply yourself? Other than different options in color hues, how do they differ from other brands on the market?
TO: It depends on your skill set, but it takes some practice. There are a few tricks to make it that much easier, and the end results are worth the challenge. In terms of how we differentiate, our lashes are much more subtle, less heavy in look and lighter-weight. They feel like you don't have them on. They are almost undetectable. It's a much cleaner lash than what's out there.
Do you apply mascara to these lashes like other lashes?
TO: The good thing about these is you don't have to. You can put them on without mascara, but if you're going out at night and want to pump them up a little bit, you can. For other lashes on the market, you pretty much have to use mascara in order to blend the lashes together. For ours, you don't necessarily need to.
What are your favorite mascaras on the market?
TO: I'm a diehard fan of Maybelline Great Lash. It keeps a really good curl—I've tried many other ones and I always go back to Great Lash. Another one that I use is Dolly Wink. It's a Japanese brand and not very easy to find—I find that it's less transferable. If you're someone who has issues with mascara transfer, I recommend the Dolly Wink. Otherwise, I like the Great Lash regular formula.
You both spent years working together—what's the best thing about working together that brings on the creative synergy between you two?
JL: I think we have a very similar eye. We love and appreciate the same sense of beauty; slightly off, slightly imperfect, amplified, and never covered up or manipulated.
Jenna, what's a quick rundown of your morning and evening routine? Do you still use Biologique Recherche?
JL: Arcona Brightening Gommage and Biologique Recherche Crème Masque Vernix in the AM. Dr. Barbara Sturm Cleanser, Biologique Recherche P50, Augustinus Bader topped with a Glossier mint balm or the Laneige lip sleeping mask in the PM.
Will you ever go back to the fashion world?
JL: I don't think they'll have me.
Related: Gwyneth Paltrow's Wellness Routine Involves 20-Minute Baths and Infrared Saunas