Jennifer Aniston and Justin Theroux Announce They're Separating
The decision was "mutual and lovingly made at the end of last year."
---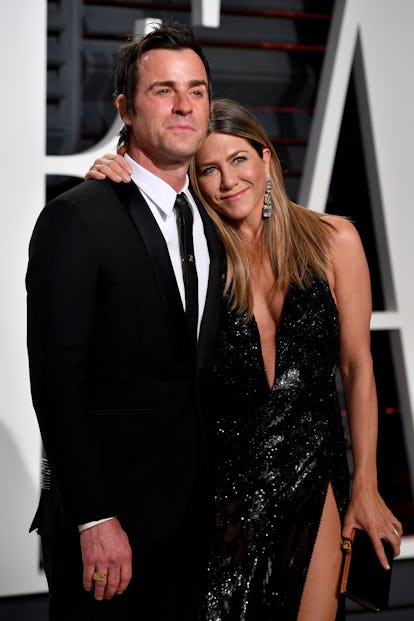 Photo by Pascal Le Segretain/Getty Images
Jennifer Aniston and Justin Theroux are the latest celebrity couple to call it quits. Six years after they were first linked together as a couple, the pair has split. Aniston and Theroux actually broke up at the end of 2017, as a statement issued to AP News by the actress' rep confirms, however they just announced their separation today.
"Normally we would do this privately, but given that the gossip industry cannot resist an opportunity to speculate and invent, we wanted to convey the truth directly," Aniston's publicist, Stephen Huvane, told AP News. "Whatever else is printed about us that is not directly from us, is someone else's fictional narrative. Above all, we are determined to maintain the deep respect and love that we have for one another." The couple added that the decision was "mutual and lovingly made at the end of last year," as People notes.
While Aniston was notably busy in Los Angeles over the past days at Ellen Degeneres' birthday party, her own birthday party, and, reportedly, Amy Schumer's wedding, Theroux was nowhere to be found at any of those events. He was last seen out in public flying solo in the front row of the Adam Selman show during New York Fashion Week.
It was just earlier this month that Aniston opened up about their relationship, telling Architectural Digest of the Bel-Air home they made together, "There was a time when I thought there was something romantic about picking up and trotting off somewhere different every three months. I look around at my husband and my dogs and our home, and there's nowhere else I want to be."
Aniston also revealed that the pair decorated the home together — strengthening their relationship in the process — saying, "Justin definitely wanted to be involved, so there was a bit of a learning curve for me on how to include another voice in the design process… For instance, I figured out that immediately saying 'No!' to any suggestion is not the most collaborative move."
Aniston and Theroux married two and a half years ago after The Leftovers star proposed to her while celebrating his 41st birthday. "Justin Theroux had an amazing birthday Friday, receiving an extraordinary gift when his girlfriend, Jennifer Aniston, accepted his proposal of marriage," his rep said at the time to Us Weekly.
Related: Jennifer Aniston on Beauty From the Inside Out
The Evolution of Jennifer Aniston's Iconic Hair
Aniston arrived at the screening of Serving in Silence: The Margarethe Cammermeyer Story in 1995 with shoulder-length brown hair and a matte mauve lip.

Photo by Getty.
At The Object of My Affection film premiere in 1998, Aniston wore her hair in a playful, knotted up do.

Photo by Getty.
Aniston wore her golden blonde locks in twisted curls at the Meet Joe Black film premiere in 1999.

Photo by Getty.
Aniston has a red carpet moment at the 72nd Annual Academy Awards in 2000, wearing her long, straight hair with a slick middle part.

Photo by Getty.
Aniston debuted newly chopped locks with a glossy pink lip at the 2001 People's Choice Awards.

Photo by Getty.
The Friends star wore her golden locks in natural, tousled waves to celebrate her Emmy win in 2002.

Photo by Getty.
At the 56th Annual Primetime Emmy Awards in 2004, Aniston wore a natural face with long tousled waves.

Photo by Getty.
Aniston rocked tousled bangs and rosy cheeks at the 61st Annual Golden Globe Awards in 2004.

Photo by Getty.
Aniston looked naturally chic with a high tousled pony and luminous skin at the Friends With Money film premiere in 2006.

Photo by Getty.
At the 2009 Vanity Fair Oscar Party, Aniston wore her hair in a chic side french braid with loose curls.

Photo by Getty.
With her highlighted blonde locks, Aniston rocked a faux bob at the UK Horrible Bosses film premiere in 2011.

Photo by Getty.
At the We're The Millers film premiere in 2013, Aniston wore her tousled locks swept over with a subtle blue smoky eye.

Photo by Getty.
Aniston wore her golden brown locks in a sleek bob with a glossy pink lip at the Life of Crime premiere in 2014.

Photo by Getty.
At the 72nd Annual Golden Globe Awards in 2015, Aniston wore her hair in a swept back up do with a bold eye and pink lip.

Photo by Getty.
Aniston rocked her signature slick straight hair and natural makeup at the film premiere of Mother's Day in 2016.

Photo by Getty.