Jennifer Aniston and Tig Notaro to Star as President and First Lady in Netflix Original Movie First Ladies
The comedy is currently in development.
---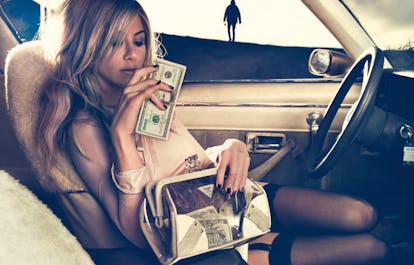 Steven Klein
For those of us dreaming of seeing a woman running the show in the White House, Netflix is here to grant your wish—two times over. The streaming giant is producing an original film, titled First Ladies, written by comedian Tig Notaro and her wife, Stephanie Allynne, Deadline reported on Friday.
In the movie, Notaro will play the wife of the first woman president of the United States, played by none other than Jennifer Aniston. Aniston and Notaro's characters will be named Beverly and Kasey Nicholson. Not much is known about the plot as of yet, but the broad strokes seem to fit right in with Notaro's penchant to mix camp with dry, deadpan humor, especially about serious topics.
Notaro's Amazon original show One Mississippi, loosely based on real events from her life including her cancer diagnosis and the sudden death of her mother, lasted for two seasons before being cancelled. The dark comedy quickly garnered a cult following and the praise of critics; season two of the series has a coveted 100 percent on Rotten Tomatoes. This will be the first project Notaro has embarked on following her professional split from Louis C.K., who was an executive producer on One Mississippi, after allegations of sexual misconduct were made against C.K. last year.
The movie will also be Notaro's first original scripted project with Netflix, following a 2015 original documentary with the online network titled Tig. Notaro's newest stand-up special, titled Happy to Be Here, will be available on Netflix on May 22.
Aniston, incidentally, is taking a bold jump in to the streaming melee as of late. She's also connected to another Netflix movie, Murder Mystery alongside Adam Sandler. Though, her most anticipated upcoming project is for another streaming service that doesn't yet exist. In her return to episodic television, she'll team with Reese Witherspoon for a show about rivalries that develop in the cutthroat world of morning television. The pair will reportedly make more than $1 million an episode each, and the show already has a two season commitment from Apple. Though, it's still unclear what, exactly, Apple's online television service will be.
In any event, no word yet on when First Ladies will hit Netflix, but the opportunity to see a same-sex power couple running the country will certainly be highly anticipated. When you think about the fact that a former reality-TV star is commander in chief and a Sex in the City star has a viable shot at the New York governor's office, President Jennifer Aniston doesn't sound that far-fetched after all.
Related: Jennifer Aniston on Beauty From the Inside Out
The Evolution of Jennifer Aniston's Iconic Hair
Aniston arrived at the screening of Serving in Silence: The Margarethe Cammermeyer Story in 1995 with shoulder-length brown hair and a matte mauve lip.

Photo by Getty.
At The Object of My Affection film premiere in 1998, Aniston wore her hair in a playful, knotted up do.

Photo by Getty.
Aniston wore her golden blonde locks in twisted curls at the Meet Joe Black film premiere in 1999.

Photo by Getty.
Aniston has a red carpet moment at the 72nd Annual Academy Awards in 2000, wearing her long, straight hair with a slick middle part.

Photo by Getty.
Aniston debuted newly chopped locks with a glossy pink lip at the 2001 People's Choice Awards.

Photo by Getty.
The Friends star wore her golden locks in natural, tousled waves to celebrate her Emmy win in 2002.

Photo by Getty.
At the 56th Annual Primetime Emmy Awards in 2004, Aniston wore a natural face with long tousled waves.

Photo by Getty.
Aniston rocked tousled bangs and rosy cheeks at the 61st Annual Golden Globe Awards in 2004.

Photo by Getty.
Aniston looked naturally chic with a high tousled pony and luminous skin at the Friends With Money film premiere in 2006.

Photo by Getty.
At the 2009 Vanity Fair Oscar Party, Aniston wore her hair in a chic side french braid with loose curls.

Photo by Getty.
With her highlighted blonde locks, Aniston rocked a faux bob at the UK Horrible Bosses film premiere in 2011.

Photo by Getty.
At the We're The Millers film premiere in 2013, Aniston wore her tousled locks swept over with a subtle blue smoky eye.

Photo by Getty.
Aniston wore her golden brown locks in a sleek bob with a glossy pink lip at the Life of Crime premiere in 2014.

Photo by Getty.
At the 72nd Annual Golden Globe Awards in 2015, Aniston wore her hair in a swept back up do with a bold eye and pink lip.

Photo by Getty.
Aniston rocked her signature slick straight hair and natural makeup at the film premiere of Mother's Day in 2016.

Photo by Getty.