Jennifer Lopez Will Play the Robin Hood of Strippers in New Movie Hustlers
"She's f-cking Jennifer Lopez."
---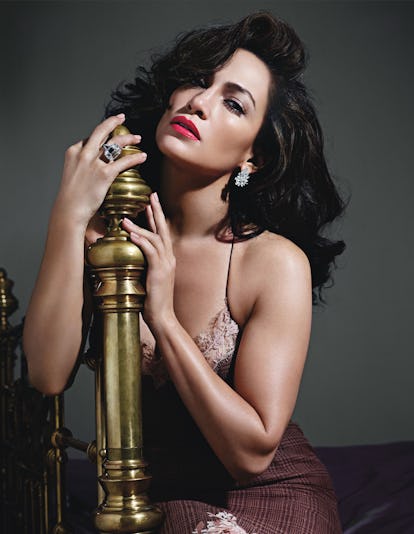 Mario Sorrenti
Few people in Hollywood work quite as hard as Jennifer Lopez, so it's no surprise she's top billing in a movie called Hustlers—though you might be a tad surprised about the role she'll actually play.
According to a press release, Hustlers will be an adaptation of a New York magazine story about a group of New York City strippers who imagine themselves as something akin to modern-day Robin Hoods, scamming their wealthy high-end clientele and keeping the money for themselves.
Though it's not confirmed, we all but assume Lopez will play a character based on "Samantha Foxx" from the article, the mastermind behind the scheme whom the magazine describes as "a single mother from the Bronx" who mixed a "Jessica Rabbit" body with "a mercenary streak worthy of Gordon Gekko." It's a little bit racier than what we're used to from Lopez's acting career, and yet perhaps she's the perfect person to play the role.
Whatever the case, the film's director, Lorene Scafaria, is ecstatic about the casting. "There is no other actor who could embody this raw and dynamic character with such complexity, humanity, and intelligence. It's always been her," she said in a release. "She's f*cking Jennifer Lopez."
Though Scafaria promises the film will be about a lot more than "J.Lo as a badass stripper."
"The film is an empathetic look at women and men, our gender roles, what we're valued for, what we've been told is our value in every movie, TV show, every corner of culture," Scafaria said. "Men have been told they're worth the size of their bank accounts. Women have been told they're worth the symmetry of their faces, their bodies, their beauty, and that's what this film is based on. The rules of the club are the rules of the world."
Produced by Annapurna and Gloria Sanchez, Hustlers is set to be a rare dip into independent and more artsy cinema for Lopez. As an actress, she's mostly skewed toward studio films and more mainstream fare. However, she did make a streak of indie films in the middle of the 2000s (An Unfinished Life, Bordertown, and El Cantante), so maybe with the ending of her NBC cop procedural, Shades of Blue, she's ready to get out there and stretch her legs as an actress again (we guess in this case in more ways than one).
Related: Even Jennifer Lopez Is Confused by How Little She's Aging