Jennifer Lopez Fought Hard to Include Supplements in the JLo Beauty Lineup
"I really believe with a pump and a pill—a pump of serum and a supplement—you're going to see an improvement in your skin over time."
---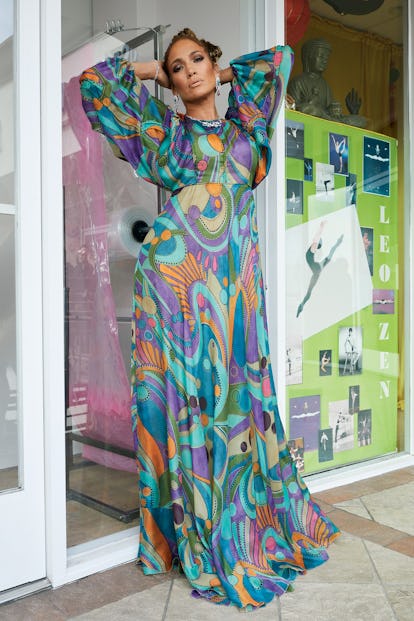 Photograph by Juergen Teller; Creative Partner to Juergen Teller: Dovile Drizyte; Styled by Sara Moonves. Hair by Danielle Priano for PSxDanielle at The Wall Group; Makeup by Scott Barnes for Scott Barnes Beauty at SixK.LA; Manicure by Michelle Saunders.
"As I get older, the no. 1 question I've always gotten is, 'What are you doing for your skin?,'" Jennifer Lopez says. "So I feel like skincare is one of the things people wanted from me. I get sent a lot of things and I've tried every product out there, from drugstore to high-end. I wanted to share what I've learned… my secrets."
Lopez, who is in the middle of ardently describing the inception of her new skincare line, JLo Beauty, has a point. The Bronx, N.Y. native is renowned for remarkably glowing skin and youthful appearance (think for a moment: is there anyone with better skin at this point in their career?), which has become the stuff of internet legend. JLo Beauty officially launched this past Friday; the "If You Had My Love" artist says she produced the line with two principles that have provided guidance in both her professional and personal life: heart and soul. "I created and curated this brand to be a simple program for beautiful, healthy, youthful-looking skin," she added.
Lopez personally oversaw every aspect of JLo Beauty's formulations—including the chic rose gold packaging (inspired from a treasured piece of jewelry) to the carefully formulated ingredients, which went through over 100 edits before they met her standards. Below, she goes into further detail about her new eight-product skincare line and how it embodies the "beauty from the inside out" mantra.
You've always had a disciplined skin regimen. Were you into skincare from a young age, or did you develop a routine over the years?
Growing up, I had pretty good skin, but it was on the dry side, so hydration has always been important to me. I've learned so much over the years and I've tried so many products. When I started to create this brand and began talking to scientists and doctors, I learned that hydration and fighting inflammation from the inside are two important factors in maintaining a youthful look. That, combined with living healthy and prioritizing sleep, sunscreen, serum, and supplements, are the foundation of the brand. Beauty from the inside out has always been my philosophy.
I always ask people what their morning routine is. What's yours?
I like to start my day with positive affirmations: "I am youthful and timeless at every age. I live a beautiful, adventurous life with my children, and we are all in perfect health." Affirmations have really helped me through the hardest times in my life. Forcing myself to think in a more positive way, even when I might be in pain. I am a big fan of Louise Hay's affirmations.
You have a supplement in this line. What's the standout ingredient in the supplement? What does the supplement help promote or maintain?
That Inner Love in a Skin-Nutritious Dietary Supplement contains olive extract, vitamin E (at 100 percent of the daily recommended dose,) and manganese and copper, also at 100 percent of the daily recommended dose, to help support the body's natural collagen production. The supplement was really important to me and people fought me the hardest on including it—but again, I really believe in beauty from the inside out. I really believe with a pump and a pill—a pump of serum and a supplement—you're going to see an improvement in your skin over time.
You've mentioned that your mom's cure-all has always been olive oil. Can you elaborate?
Using olive oil for skin and hair is a family tradition. It was something my mom, my grandmother, my aunt, all used when they needed that extra hydration on their body, face, and hair. When I met with the team to develop the brand, I said, "We need to begin with olive oil as a basis." But that was just the starting point; straight-up olive oil isn't the answer. That family secret led to a lot of formulating and testing and re-formulating to create our proprietary Olive Complex, which is a combination of olive-derived squalane, fermented oil, olive leaf extract, and extra virgin olive oil.
Is the olive oil complex in all of the skin products?
The Olive Complex is not in every product, but it is in some of my favorites—including That Hit Single in a Gel Cream Cleanser, That JLo Glow in a Multitasking Serum and That Limitless Glow in a Multitasking Mask.
When you formulated the Blockbuster Wonder Cream, what was your vision?
I wanted something that looked and felt luxurious when you were applying it, and which had immediate and long-term results. It plumps and nourishes skin and is extremely hydrating, so you wake up and your skin looks and feels so amazing. It has a yeast-derived ferment, which has antioxidant and smoothing properties, potent peptides, hyaluronic acid for continuous hydration and of course, our JLo Beauty Olive Complex.
Is it to be used day and night?
You can use it day and night, but I like to use it mostly at night and apply That Big Screen in a Broad-spectrum SPF 30 Moisturizer during the day because it has SPF protection. That Blockbuster in a Nonstop Wonder Cream is rich!
Do you have drugstore favorites for your skin? Any that have been great for your complexion?
When I was growing up, it was all about Ivory soap—that was our skincare regimen in the Bronx. It wasn't until I got into the industry that I started learning more and being exposed to more and I actually realized that some of the products that were really, really expensive were just fine, but some of the simple things that I bought from Whole Foods or the drugstore were great, too. It was a mix for me.
Do you get facials when you're in L.A. or New York? Are there any specific skin treatments you get in conjunction with your skincare? Or do you mostly believe in good skincare and a healthy lifestyle to facilitate great clear skin?
Listen, I would love to get a facial when I can—I just don't have the luxury of doing that all the time; just like you guys, I'm working a lot. I remember calling up someone to come to the house to do a facial and they said it's been two years since I had the last one, so I don't get to do it all that often [laughs]. When I do, it's a treat. Skincare evolves and changes. I was crazy about oxygen facials when they first came out and I'm still determining if the facial craze with LED lights is all it's cracked up to be.