Jennifer Lopez Is Reclaiming Her Rom-Com Crown In Second Act Trailer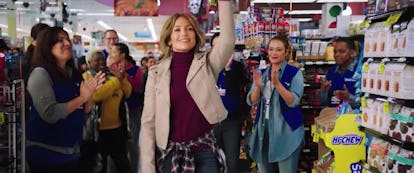 STX Entertainment/YouTube
After an unbearably long absence that included stops at NBC for TV drama Shades of Blue and dance competition World of Dance, Jennifer Lopez is finally ready to reclaim the territory that knows her best: the romantic big-city comedy.
Today, the multi-hyphenate released the first trailer for Second Act, a Working Girl and Maid in Manhattan hybrid that stars Lopez as an unfulfilled value-store employee who has bigger dreams than sorting produce and scanning boxes in Queens. With the help of her requisite rom-com sidekick (Leah Remini!), she's able to lie her way into a job interview at a bougie Madison Avenue company, and soon enough she's reveling in the riches of a skyline office, a carousel of company credit cards, and her very own Manhattan penthouse, all of which she hopefully shares with her cutie-pie boyfriend (Milo Ventimiglia). "I wish we lived in a world where street smarts equal book smarts," she rationalizes before securing her new gig. "The educated people in their fancy houses, who name their kids after fruit and climb Kilimanjaro."
Naturally, the third act of the film veers into Younger territory, with our heroine having to increasingly cover up the fact she 1) never went to Wharton, not "Horton," 2) doesn't actually speak Mandarin, right before an important dinner meeting, and 3) just generally lied about her entire resume. But white lie hijinx aside, Second Act seems to beautifully fit into Lopez's "hardworking, outer-boroughs woman knows her worth" canon, and we're already imagining the scene where she storms back into her old value store to tell off her boss in a fabulous bodycon dress. That, and the Fifth Avenue shopping spree where she buys said bodycon dress.
Second Act will be out November 21.