The Beach is Back
Just in time for this month's art and design fairs, insiders Jennifer Rubell shows us around Miami.
---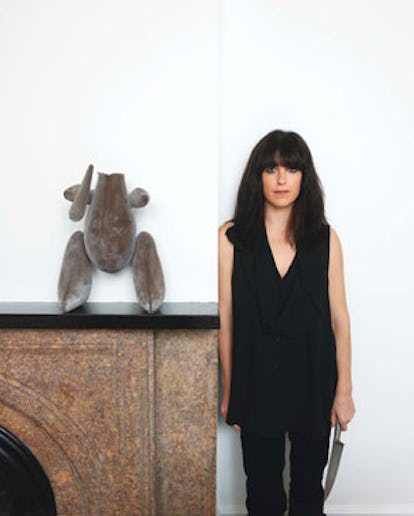 "It was like coming out," says Jennifer Rubell (left, with a decapitated chocolate bunny) of the moment she finally worked up the courage to call herself an artist. That was less than a year ago, when she staged a food-based event for New York's 2009 Performa Biennial, offering guests the opportunity to feast on a one-ton pile of ribs, pick apples from a tangle of felled trees, and smash chocolate replicas of Jeff Koons's bunnies with mallets. This month, to coincide with Art Basel Miami Beach (December 2 to 5), she'll stage Just Right—which she describes as a "breakfast project" based on the Goldilocks tale—at her family's private Miami museum, the Rubell Family Collection (305.573.6090, rfc.museum). Visitors will walk through a hole blasted in the back wall of the museum and into a decrepit house, where they'll encounter 40 Crock-Pots full of porridge, a room-size mound of bowls and spoons, a closetful of brown sugar and another of raisins. "To me, Goldilocks is the ultimate parable of contemporary artmaking," says Rubell, 40, who attended the Culinary Institute of America after graduating from Harvard and is a former cooking and entertaining columnist for The Miami Herald. "She's a trespasser, and yet she takes on the authority to determine what is 'just right.'" For hot-cereal fans—and lovers of conceptual installation art—her breakfast is one of the week's must-eats. But, according to Rubell, there are plenty of standout options for lunch, dinner, and drinks during the show. Joe's Stone Crab (which she calls "an institution") and Casa Tua ("the most gorgeous setting in all of Miami Beach") rank among her favorites, but so do these slightly lesser-known spots. Here, her recommendations.
Club Deuce
"The very best dive bar in Miami Beach, with a pool table, a horseshoe-shaped bar, AC/DC and Johnny Cash on the jukebox, and a crowd that ranges from biker chicks to wasted artists. When you're sick of Art Basel champagne, come here to get into trouble" (305.531.6200; open till 5 a.m.).
Enriqueta's
"Located down the street from the Rubell Family Collection, this fantastic breakfast-and-lunch-only sandwich shop feels like a Miami stage set, with plastic booths bolted to the floor, everyone from construction workers to emaciated artists drinking café con leche, and sandwich ladies who call you 'mi amor.' I'm a major fan of the grilled chicken sandwich, which comes with potato chips—on the inside" (305.573.4681; no reservations).
Michael's Genuine Food & Drink
"I worked with chef Michael Schwartz ages ago, at a hotel my family once owned called the Beach House, and have been crazy about his food ever since. It's homey and locally sourced, like the food your mother would've made for Sunday dinner if she were a top-notch chef. Located in the Design District, it draws a mostly local crowd, including art collectors, socialites, and Miami TV personalities. I'm crazy for the crispy pig's ear salad and the whole poulet rouge" (305.573.5550).
Michy's
"Michelle Bernstein, one of the country's top female chefs, runs this little gem with her husband, David Martinez, and I love everything about it. Like the chef herself, the style of the place is whimsical and feminine, with the most intense rigor just below the surface. The menu pulls from Michelle's classical French training and half-Argentine heritage; blue cheese and jamón Serrano croquetas might be followed by a mound of short ribs falling off the bone. It's totally out of the way, in an area that's been up-and-coming for a decade—a great stop on your way to Miami's Museum of Contemporary Art" (305.759.2001).
Rubell: Jason Schmidt; All others: Greg Clark