THIS IS WHAT A FEMINIST LOOKS LIKE
Jennifer Rubell Tackles Her Feminist Fantasies in First Solo New York Gallery Show
The show at Sargent's Daughters features a five-foot-plus-high cookie jar sculpture of Hillary Clinton's orange pantsuit striding off a pedestal.
---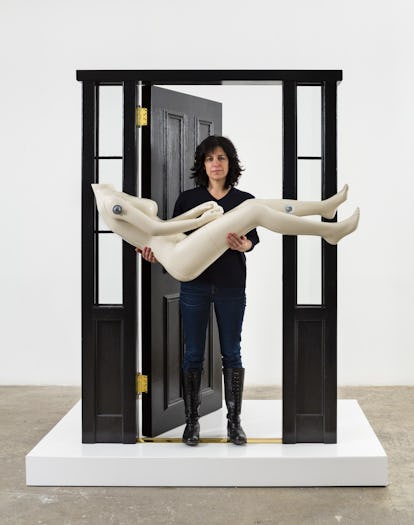 Jennifer Rubell has invited viewers to hold a glass baby, crack nuts between the thighs of a lady mannequin, and disrobe inside a dark room to watch a film of her naked on a horse. Interaction has always been at the core of her work. Where galleries normally take a "don't touch" approach, Rubell incites audiences to dive in and play their part in completing the piece on view.
Take, for example, the orgiastic food installations for which she is best known. Operatic in scale and ambition, they have featured 2,000 hard-boiled eggs with a mountain of gloves nearby for handling and one for the Brooklyn Museum that involved a giant piñata of Warhol's head and a baseball bat. Then there was the wedding banquet performance she orchestrated for 600 guests at London's Saatchi Gallery celebrating the marriage of auctioneer and dealer Simon de Pury and Michaela Neumeister, with heaps of crayfish and whole hams laid out on 69 beds—and no eating utensils.
Now in her first solo New York gallery show "Housewife," opening January 18 at the Lower East Side gallery Sargent's Daughters, Rubell plunges viewers into her feminist fantasies about the roads not taken. What's likely to be most talked about (and dare I say, Instagrammed) during this pre-inauguration week is "Vessel," her five-foot-plus-high cookie jar sculpture of Hillary Clinton's orange pantsuit striding off a pedestal. Painted in food-safe paint, it will be filled with oatmeal chocolate chip cookies based on the recipe that Clinton gave to Family Circle in 1992 after famously declaring that she had pursued a career rather than stay home and bake cookies. (The idea that she would deride traditional wifely duties during her husband's presidential bid provoked so much outrage that Clinton offered up a favorite recipe for a prospective First Lady bake-off.)
"She was a vessel for so many women's dreams," Rubell, 46, said the other day as we sat in a coffee bar on a newly-gentrified block in Astoria, Queens, not far from where the sculpture was being fabricated. "But she was also a vessel for chocolate chip cookies and for her husband. It's a very strange thing for my generation to unpack this character—what she was able to do and not able to do and the limitations based on her history. When she got into public life, women were in a completely different position."
Rubell came up with the piece well before election night "and yet it tells a truth about her fate," she added. "She's stepping off the pedestal. It's only a pantsuit, but it's very clearly her and I was very much trying to come to terms with her role. When she lost, the feeling I had was like watching my mother not have her dream come true, which, of course, I never saw because my mother's dreams came true beyond everybody's wildest dreams."
As the daughter of mega art collectors Don and Mera Rubell and the niece of the late Studio 54 co-founder Steve Rubell, Jennifer saw the shifting cultural landscape up close. Steeped in art and hospitality from the earliest age, she learned first-hand about entertaining from her Uncle Steve. In the early days of Studio 54, she and her brother Jason would watch rehearsals for the extravaganzas planned for that night in the club before heading home to do their schoolwork. She threw her first dinner party at age 9, and in the early '90s, after her family bought the boarded-up Greenview Hotel in then down-at-the-heels Miami Beach, Jennifer and Jason became hoteliers on the job and helped oversee the renovation of a former DEA storage facility to house the Rubell Family Collection, which pioneered Miami's contemporary art scene. Later she attended the Culinary Institute of America and interned for Mario Batali at the Food Network, before becoming a food columnist. Along the way she became a mother of two—her daughter Stevie is 11, her son Max, 4—but she never married.
Like stations of the Feminist cross, Rubell's "Housewife"invites us to step into various female rites of passage. In "Threshold," visitors assume the role of the groom carrying his bride across the doorway. A headless naked mannequin is bolted horizontally to a door frame; the figure approximates Rubell's own measurements and the black lacquered doorway is a replica of the one fronting Rubell's childhood townhouse on the Upper East Side, where for years her parents hosted the opening night party of the Whitney Biennial.
"On the one hand the viewer carries this bride across the threshold in this key, kind of seminal feminine moment," she said. "But at the same time the whole show is about my need for the viewer to play this role that normally a romantic partner might and for whatever reason never really materialized in my life. It explores these complicated questions about femininity and feminism." She had planned to try on a bevy of wedding gowns for her research, but when that experiment proved "a bit too much," she settled on a tulle and satin number by Vera Wang before ultimately deciding that the figure could do without it.
In "Pedestal," participants can test drive a "sexy housewife" scenario—their own and Rubell's— by stepping into a pair of custom red patent-leather spiky heels and taking hold of a Miele vacuum cleaner. (The vacuum is also a nod to Jeff Koons' store-bought Hoover models encased in acrylic, one of which is owned by the Rubell Family Collection.)
Rubell splits her work into two categories: ephemeral (food performance) and durable (sculpture and painting), which for a long time she resisted. "And then I had a mid-life crisis," she said, laughing, "and really came to embrace sculpture and painting. There was something particularly fulfilling about eternal mediums and it shocked me because I didn't see things going in that direction at all." Her 2014 show at Sargent's Daughters was a collaboration between Rubell and the painter Brandi Twilley, though Rubell played the role of model, posing nude three days a weeks for three years. The resulting paintings explored the relationship between artist and model and were credited to a macho male phenom they dubbed Brad Johns.
"Housewife," however, presents Rubell's first outing as a painter herself. Not surprisingly, the medium proved the most challenging one for her to tackle. "The only way I could begin to make marks on a surface is because I came up with this idea of using a red paint stick on bathroom partitions. It's a surface that existed enough inside a feminine, non great-artist realm." Her series "Partition Paintings" call to mind lipstick doodles on a bathroom wall and list Rubell's actual phone number, the inclusion of which cracked open the problem of how to make them interactive. "Viewers can call me," she said. "So they engage, not in a physical way with the object, but the object acts as a prompt to engagement."
While preparing for her latest show, Rubell posted images on Instagram of homages to famous contemporary works made out of things that she found around her house in Gramercy Park. #housewifemarcelduchamp is a child's potty; #housewifepaulmccarthy is a chaotically-iced gingerbread house with gumdrops. She tried printing some of the photographs and framing them, but found they were best suited to the ephemeral medium that is Instagram.
Now that she's showing objects in a New York gallery, I asked Rubell if she finds it daunting to tackle realms that her family is famous for collecting.
"I've had the privilege of growing up inside the visual language of art and it informs all my work ," she replied. "But it's not like I get a free pass because my family are collectors. In fact, it's exactly the opposite. But I'm happy to have to push harder to overcome people's conceptions of what a collector's daughter might be. Bring it on."
Sure, she has an archive of great contemporary artists in her head, but then "every artist does," she acknowledged. "What good artist isn't competing with the best who ever lived?"
Explore an Empty Rubell Family Collection
Watch No Man's Land: Just Nina Agdal and All-Female Art
No Man's Land: Just Nina Agdal and All-Female Art