Jessica Alba Debuts Her Sleek and Shorter Post-Pregnancy Hair
She welcomed a baby boy back in December.
---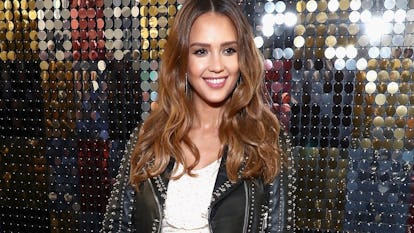 Getty Images
New kid, new hair? While awaiting the arrival of her son Hayes, Jessica Alba let her hair grow into a wild, pregnancy-enabled mane — and now she's ready to chop it all off. On Wednesday, the actress debuted a new shoulder-length cut, and she took to Instagram with a side-by-side comparison pic to show fans how much better she feels. In the "before" picture, she's matched her frazzled split-ends with an exaggerated grimace, and in the "after," she's topped off her sleek lob with a satisfied smile.
"This happened ??‍♀️ thx @chadwoodhair for the awesome #haircut," she wrote in the caption. "it feels sooo good to shed the pregnancy hair. Whaddaya think?"
The new mother-of-three also included two time-lapse videos of her "shedding," and they provide a quick glimpse into what seems to be quite the complicated process. (There's a lot of pinning, snipping, re-pinning, blow-drying, and straightening.) Chad Wood, the hairstylist responsible for Alba's rejuvenated tresses, uploaded one of the videos onto his own Instagram, captioning it "Wait! I like that piece !!" along with a closer look at the actress' new look. "Fresh new look for Mama!!" he wrote.
It's a refreshing new style for Alba, who kicked off the new year with the birth of a new baby boy. "Best gift to ring in the New Year!! Cash and I feel so blessed," she wrote on Instagram in January. "Haven and Honor are already obsessed with their new baby bro. ??? #familyof5." Meanwhile, we're obsessed with this new hair.
Related: Jessica Alba's Facialist On the Secrets to Glowing Red Carpet Skin