Premiere: Jessica Boudreaux of Summer Cannibals Goes Pop with "Ask Me to Stay" (Exclusive)
The Portland-based musician just made your new favorite heartbreak jam.
---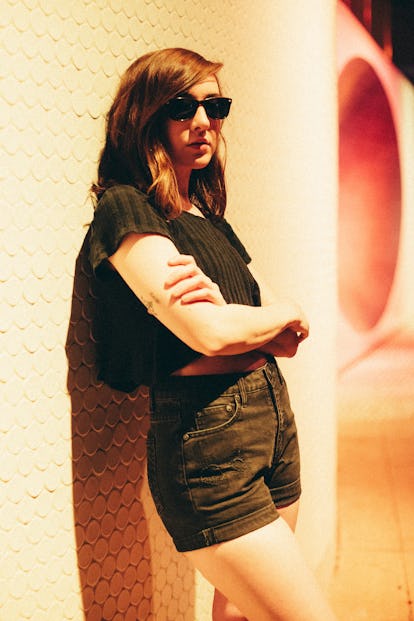 Jason Quigley
Jessica Boudreaux makes rock music. She's best known as the frontwoman for the Portland-based three-piece Summer Cannibals, which she described recently as "my loud rock band" and who put out their third record, on celebrated west-coast indie label Kill Rock Stars, just last year. But with her new single "Ask Me to Stay," the opening track on her forthcoming solo record No Fury, out November 3, the 27-year-old musician is trying her hand at a pop song—and at a pop record.
"Ask Me to Stay," which premieres exclusively here on W and is the second single off No Fury, was "number three or four" of Boudreaux's ventures into pop—she estimated she wrote, and rejected, as many as 40 more songs that didn't make the cut on No Fury.
She had just exited one relationship that had lasted six years, and almost immediately entered into a new one—"that's just never a good idea," she said wryly—and "like most musicians, the way I process things is that I write songs," she added. But, while she was accustomed to writing rock songs, the form didn't jibe with the emotions she wanted to pack into her music: "I felt sad, and I felt all these things, but I didn't feel angry, so writing rock music felt really unnatural, even though that's what I always had done," she explained.
So she decided to bring in synthesizers. Boudreaux was deep into experimenting with different sounds (she tends to write music first, lyrics second) when she finally developed the skittering, arpeggiated riff—a synthesizer put through a guitar pedal—that opens the track, and the album. With that line written, the rest of the track fell into place within just a couple hours; she recorded the song in December with production by Hutch Harris of The Thermals—and her Summer Cannibals bandmates, drummer Devon Shirley and bassist Jenny Logan, both play on the track.
As an introduction to No Fury, "Ask Me to Stay" sets the tone for what Boudreaux described as "a breakup and love album," and with its simple, solitary opening riff, makes for a striking opening. ("Starting a record like that feels really good," Boudreaux said.) But it also sets the tone for No Fury's myriad genre subversions. It's a pop record whose verses have all the grit of '80s and '90s garage bands; it's an album whose song titles often imply the opposite of their lyrics. While "Ask Me to Stay" reads like a plea, it turns out to be more of a rebuttal: "You were too tough, too tough to break through," she sings before charging into the anthemic chorus: "So why do I, why do I, why do I stay when you ask me to?"
"For me, pop music is such a chance to be really blunt," Boudreaux said. "It just says that exactly, and it's exactly what it means."
See Jared Leto's admittedly flawless Robert De Niro impression: