Jessica Chastain Helped Get Octavia Spencer Get Five Times Her Pay for Their Holiday Comedy
"I love that woman, because she's walking the walk and she's actually talking the talk," Spencer says.
---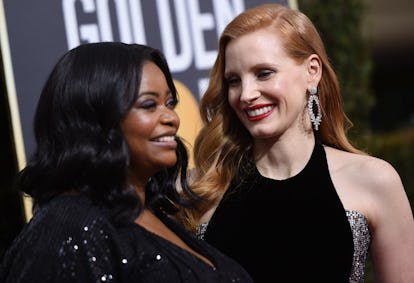 VALERIE MACON/AFP/Getty Images
There is one more reason to love Jessica Chastain and Octavia Spencer's friendship: The pair look out for each other professionally.
Recently, the two actresses teamed up for an upcoming holiday comedy, which was just announced last week when Universal won it in a bidding war. While at Sundance, Spencer explained how the idea first came to them and how Chastain was able to not only secure equal pay for Spencer — amid Hollywood's gender pay gap and wider pay gap for women of color — but also five times Spencer's salary.
"I have a story, and you guys are gonna be the first to hear it," Spencer said to the crowd at a "Women Breaking Barriers" panel. "Jessica Chastain — we're really good friends and we had such a good time working on The Help — wants to do comedies and I want to break out of period pieces. I love them. They've been kind to me. But I want to play someone who resembles me in some fashion. So she contacted me and said, 'I want us to do a comedy'. I'm like, 'Yeah!' She had an idea. She went off to work. I went off to work. She called me six months later, which would have been last March, and we were talking about pay equity with men and women. She was like, 'It's time that women get paid as much as men'. I'm like, 'Yeah Jessica, it's time!' We were dropping F-bombs and getting it all out there. And then I said, 'But here's the thing, women of color on that spectrum, we make far less than white women. So, if we're gonna have that conversation about pay equity, we gotta bring the women of color to the table'. And I told her my story, and we talked numbers, and she was quiet, and she said she had no idea that that's what it was like for women of color."
At that point, tears began streaming down Spencer's face, which she acknowledged: "I don't know if these are happy tears," she said. "I love that woman, because she's walking the walk and she's actually talking the talk. She said, 'Octavia we're gonna get you paid on this film… You and I are gonna be tied together. We're gonna be favored nations, and we're gonna make the same thing.' Fast forward to last week, we're making five times what we asked for."
Spencer isn't content just yet, though: "Now, I wanna go to what the men are making!," she said. "I want to get there. But right now it feels really good just to be in that conversation. I'm emotional because I haven't had a chance to process it and it's real. Every woman in here has value and women do have to produce. She's producing this. She came up with the story. She went out with her production company and we pitched together and we had a bidding war. We were just sitting there sipping our coffee. Oh my god. Women are in demand, making films." No doubt, there will be plenty of demand to see the pair's holiday comedy — of which the title or release date is not yet known — which centers around two women facing an obstacle course of events as they struggle to make it home in time for Christmas.
"When it came down to it, she was right there, shoulder to shoulder, as a producer, as an actress," Spencer added. "It's changed my whole perspective on this matter. I've always been an egalitarian. When you raise your daughters and sons, do you tell your daughter, 'Honey, I only want you to do 3/4 of work because that's all they're going to pay you for?' You don't raise girls like that so this is an important conversation to have."