Jessica Chastain and Octavia Spencer Are Reuniting for Female-Led Holiday Comedy
Chastain co-wrote the story!
---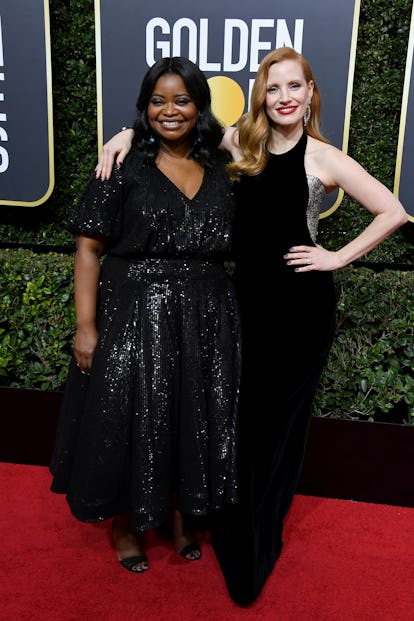 Photo by Steve Granitz/WireImage
Jessica Chastain is making good on her promise to deliver more "projects for women about women." Up next: A holiday comedy she's co-starring in alongside Octavia Spencer. The film, which was just scooped up by Universal in a bidding war according to Variety, is centered around the two ladies' obstacle course-like journeys back home in time for Christmas.
Chastain not only co-wrote the treatment with Kelly Carmichael, best known for her work on Nine and Nanny Diaries, she's also producing the film with her company Freckle Films. The actress, who struck up a friendship with Spencer while filming The Help, recently talked about her production company with W, saying, "It is very important for me to take all the gifts that I've been given, because I've been given a lot of attention very fast, and spread the wealth a little bit, and now maybe point everyone in a direction of incredible female filmmakers or writers that I feel should be getting more work."
Chastain has also advocated on behalf of women on the red carpet, as she did this past Golden Globes alongside Spencer. "We go way back. We're sisters," Chastain, who arrived wearing all black in support of the Time's Up movement, told ET at the time. "We're here for the Time's Up movement, our defense fund that will help protect men and women coming forward to fight against any sexual harassment, sexual assault and the fallout from coming forward."
"Reese Witherspoon, Kerry Washington, America Ferrera, Jessica Chastain, they have been wonderful leaders for me and I'm just excited to be a part of this, because time's up and this time has come," Spencer said, before telling her acting partner, "I'm proud of you."
"I'm proud of you! And everyone," said Chastain. "There's really no leaders involved in this movement. This is a movement for everyone."
Chastain also spoke out about inequality in Hollywood at this year's Palm Springs International Film Festival, telling the room, "Major change is coming. Change is good. Change is needed. We are all in this together. Each one of us is diminished by flawed systems. Through our joint efforts, we will make things better. We must make things better. We must be better—and we will."
Related: Jessica Chastain Worries Her Italian In-Laws "Hate" Her Because She's a Vegan
Jessica Chastain's Style Evolution As the Ultimate Red Carpet Chameleon
Humble beginnings: Chastain is the ultimate early aughts girl in tattered boot-cut jeans and stripped pastel tee.

Getty Images
Attending a fashion week party in LA, Chastain looked cool and casual in a halter-neck black dress.

Getty Images
Once again, Chastain keeps it simple at classic at the opening of Othello at B-Bar in NYC wearing a little black dress.

Getty Images
Chastain at the Dior Haute Couture Spring 2009 show, this time in a ruffled strapless black gown.

Getty Images
The actress arrived at the InStyle magazine Summer Soiree party, beginning to experiment with color in a printed dress.

Getty Images
At the Somewhere premiere in Los Angeles, Chastain's sartorial verve appears in this adventurous floral frock.

Getty Images
Arriving at the GQ 'Men of the Year' party, Chastain chose a flirty red polka-dot cocktail dress and smoky eye makeup.

Getty Images
Shown here in a structured, ivory frock for the Decades Denim launch party. When in doubt: belt it.

Getty Images
In a flamingo-feathered pink cocktail dress for a Golden Globes party, with an emphasis on the statement pump.

Getty Images
At a W Magazine party for the Golden Globes at a light blue dress and black strappy heel.

Getty Images
For the I Am Number Four premiere in Los Angeles in a gathered, gold dress and matching heel.

Getty Images
Jessica Chastain in Zac Posen at the Tree of Life premiere at the 64th annual Cannes Film Festival in Cannes, France.

Getty Images
A lady-like figure in a shocking pink frock and black pump for a Pre-Oscar party.

Getty Images
At a Vanity Fair launch party in a dramatic Alexander McQueen peplum top and matching skirt.

Getty Images
A gilded McQueen gown for the 84th Academy Awards, as a loose up-do completes the look.

Getty Images
Arriving at the Calvin Klein Fall 2013 show in a chic coat and dress combo.

Getty Images
A vision in glittering Givenchy Haute Couture at the premiere of All is Lost.

Getty Images
Arriving at the 70th Annual Golden Globes in gorgeous celadon gown with plunging neckline.

Getty Images
Chastain wore Armani Privé to the 85th annual Academy Awards in February 2013.

Getty Images
The pockets on Chastain's black velvet Alexander McQueen dress and the hue of her multi-colored pumps were just fun enough for a daytime photo call.

Getty Images
Statuesque beauty in a custom Prada gown for the Interstellar premiere red carpet.

Getty Images
Recalling Félix Vallotton's 1924 painting Le Retour de la Mer in a beguiling Atelier Versace gown.

Getty Images
Chastain poses on the red carpet for the European premiere of the film Interstellar in London wearing a dusty rose gown by Saint Laurent.

Getty Images
Prim and pretty in an embellished Oscar de la Renta dress and gilded heel at the 40th Deauville American Film Festival.

Getty Images
Chastain arrives at 'China: Through The Looking Glass' in golden Givenchy Couture gown for ultimate movie star glamour.

Getty Images
In an Oscar de la Renta printed dress for the Jameson Empire Awards in London.

Getty Images
Jessica Chastain in Givenchy at the Toronto International Film Festival premiere of The Martian in Toronto, Canada, September 2015.

Getty Images
The lady is a vamp! In a dramatic, plunging gown by Versace at a Golden Globes party.

Getty Images
Jessica Chastain in Elie Saab at the opening of the Metropolitan Opera's 2015-2016 season in New York, New York, September 2015.

Getty Images
Jessica Chastain in Givenchy at the 87th annual Academy Awards in Hollywood, California, February 2015.

Getty Images