Even Margherita Missoni Thinks It's Best to Visit New York in the Fall
The heir to one of fashion's most storied houses talks about her bucket list travel destinations, her favorite things to steal from the airplane, and more.
---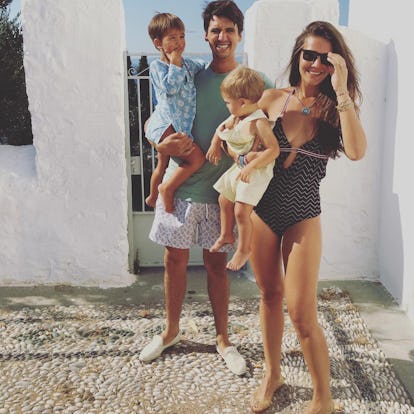 Margherita Maccapani Missoni, heir to one of fashion's most storied Italian brands, became a frequent flyer at any early age. These days, the mother of two is focused on her family and running her kid's line, Margherita, which she launched just last year. She recently combined the two passions and collaborated with The Luxury Collection Hotels on a limited-edition children's backpack, inspired by her travels to Vienna with her son Otto. Missoni shares her expert travel knowledge, including what to steal from the airplane, what's on her bucket list right now, and why traveling in your pajamas is perfectly acceptable in her book.
Describe your travel personality in four words: Comfort, curiosity, adapting, and researching.
Name one place that's high on your bucket list: I have been lusting over Bhutan for the past few years but I still haven't found the courage to leave my boys for the whole week.
Is there one place in the world you would go back to over and over? India, for me, is the most inspiring country and if I could, I would go back every year.
Best souvenir you have ever picked up on a trip? A northern Thai-Laotian jacket that came in really useful as a source of inspiration for Margherita Kids.
Describe one of your favorite travel memories: The sunrise arrival in Udaipur, after a night spent in the second-class cabin of the Indian train with my two best friends, is unforgettable.
Favorite mode of travel? I love traveling by train because it's traffic-free and kids can run around.
Go-to travel outfit: Cashmere jumpsuit.
When you see people traveling in pajamas, you think… How smart!
Best or worst person you have ever been seated next to on a plane? Best person was the old lady who entertained my son for the whole 90-minute flight during my son's terrible two's.
Best freebie you've stolen off a plane? I used to love the British Airways Anya Hindmarch first class beauty cases. I still have all the different ones.
What's your fall vacation/work travel destination? My favorite place to go in the fall is New York. I think the city is at its best then. I love the leaves in Central Park.
What's your favorite hotel in the world? I love the Gritti Palace, A Luxury Collection Hotel in Venice, because it feels like being in a fairytale.
Most luxurious hotel bathroom you've ever seen? The waterfall black tile mosaic in the Katara Suite at The Luxury Collection's Excelisor Hotel Gallia in Milan.
Favorite piece of travel advice you have ever received? Drink one liter of water per each hour of the flight.
Favorite off-season destination? Ibiza.