Jetset Like Designer Thakoon Panichgul
The world traveler shares what's high on his bucket list, the best cure for jet lag, and the one place he would go over and over.
---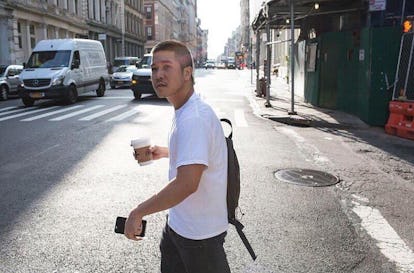 Designer Thakoon Panichgul has been splitting his time between New York City and Hong Kong these days, meaning he's also spending a whole lot of time on planes and in airports. (His label, Thakoon, was acquired by the Hong Kong-based Vivian Chou in 2015.) From what to wear for a 15-hour flight (not pajamas), to the airlines with the best food options and lounges, he's got his travel routine down pat. Here, he shares his expert tips on how to master your next long haul flight and recover from it faster than ever, and more insider secrets he's picked up while in transit.
Is there one place in the world you would go back to over and over? What is it? I think it would be Big Sur, just because it truly is magical and I'm able to truly feel that I'm cut off from everything.
Describe one of your favorite travel memories… When my entire immediate family and I traveled all together to Thailand, we literally explored the entire country, which I had never done even though I'm from there originally. It was so memorable because everyone had an amazing time and we all got along!
Describe your travel personality in four words… Quiet, routine, efficient, quick.
What's a big packing mistake to avoid? Packing too many shoes – you really don't need them all. Also, when you pack so much that there's no room left in the bag for things you buy. You're definitely going to buy something, so you better leave room to bring things back with you.
Best souvenir you have ever picked up on a trip? A hand-painted plate from Mexico. And a tiny-sized vintage children's illustration book on spiders from a bookshop in London.
Favorite airport lounge or restaurant? Cathay Pacific lounge in Hong Kong because there's a noodle bar! The Lufthansa lounge in Munich is not bad either.
Airline with the best or worst food? I fly United quite a bit, but their food is terrible. Actually I don't love any airlines' food.
What's your favorite hotel in the world and why? The Four Seasons in Chiang Mai is pretty stunning. Also, the Aman in Tokyo is so serene and comfortable.
Most luxurious hotel bathroom you've ever seen? The Crillon Paris.
Name something that always saves you when you are traveling… My Mophie battery pack and sleeping pills.
Favorite piece of travel advice you have ever received? Check to make sure your seat is not next the bathroom.
Favorite off-season destination? Paris, when it's not fashion week.
Watch: 24 Hours with Thakoon, Before New York Fashion Week Fall 2016