Since When Are Jill Biden and Prince Harry "Close Friends"?
"She spent too much damn time with Prince Harry!," Joe Biden jokingly remarked in 2016.
---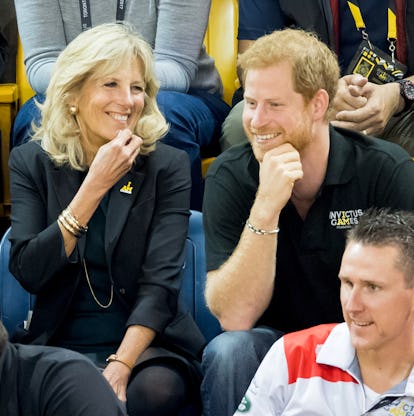 Samir Hussein/WireImage via Getty Images
Jill Biden has long concentrated on her own career as an educator in lieu of seeking a higher profile, even when she was Second Lady. But now that she's set to become First Lady, Biden's social life has naturally sparked interest and scrutiny. That seems to be what led the Daily Mail to revisit a little-known fact about Biden: She's apparently "close friends" with Prince Harry, who is 33 years her junior.
Aside from the whole peripheral world leaders thing, their bond apparently stems from a shared respect for serving in the armed force. (Harry was in the British Army for 10 years, part of which he spent in Afghanistan; Biden's late stepson Beau was at that point a major who won a Bronze Star Medal for his service in Iraq.) The pair first met in 2013, at a reception for American and British wounded soldiers, and reunited two days later at a Mother's Day tea for military moms.
Of course, it isn't odd that two political figures would find each other at the same events. But the following year, Biden proved that they hit it off. She flew to London to be by Harry's side when he launched the Invictus Games, a sports competition for wounded veterans and soldiers. As you can see above, there were grins aplenty.
It was at that point that their friendship came the attention of Jill's husband, Joe, who did not join her overseas on this particular trip. "By the way, I've been reading the English press the last four or five days," he said at an event in Iowa in 2014. When a journalist replied "it's a big moment, isn't it?," assuming Joe meant the next day's Scottish referendum, Biden corrected him. "No, not just the vote tomorrow," he said. "My wife was with Prince Harry at the Invictus Games. And I read in the Guardian, or one of them, and it says—I'm paraphrasing—everywhere Prince Harry went, he had this blonde woman on his arm. The vice-president's wife! I'm a little worried here, you know what I mean?"
The jokes continued in 2016, when both of the Bidens attended a U.S. edition of the Invictus Games in Orlando, Florida. "Jill went to London for the last Games," Joe told the audience. "She spent too much damn time with Prince Harry!"
Harry, who recently relocated to Los Angeles, hasn't been spotted with Biden since she and Joe attended the Toronto Invictus Games in 2017. But ahead of the U.S. presidential election, Harry was criticized for seeming to join his wife, Meghan Markle, in endorsing the Biden-Harris campaign. "This election I'm not going to be able to vote here in the U.S., but many of you may not know that I haven't been able to vote in the U.K. my entire life," he said in a video for Time. "As we approach this November, it's vital that we reject hate speech, misinformation and online negativity."
The couple's spokesperson later insisted that Harry wasn't referring to a specific party or candidate. As for whether or not Harry violated the royal protocol of political neutrality, a Buckingham Palace spokesperson "would not comment": "The duke is not a working member of the Royal Family and any comments he makes are made in a personal capacity."