Jimmy Kimmel Continues to Call Out GOP, Fox News Over the New Health Care Bill
"There's a new Jimmy Kimmel test," said the late-night host. "It's called the lie detector test."
---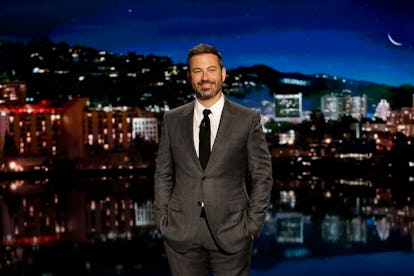 Randy Holmes
For the second consecutive night, Jimmy Kimmel devoted his opening monologue of Jimmy Kimmel Live to denouncing the Graham-Cassidy health care bill, the latest legislation to be introduced as a viable means to "repeal and replace" the Affordable Care Act, a Republican cause célèbre long before Donald Trump took office.
On Tuesday night, Kimmel urged his viewers to call their representatives to oppose the bill. The monologue, in which Kimmel excoriated the bill's namesake, Senator Bill Cassidy of Louisiana and reeled off a list of the organizations that had also opposed "this horrible bill," quickly went viral, racking up more than a million views in 36 hours. (On any other night, a Jimmy Kimmel Live YouTube clip might just scrape six digits in views.)
Jimmy Kimmel's Wednesday night opening monologue:
"Bill Cassidy was on my show, and he wasn't very honest," Kimmel said Tuesday. "He got a lot of credit for coming off like a rare, reasonable voice in the Republican party when it comes to healthcare. When Cassidy appeared on Jimmy Kimmel Live earlier this year, he proposed what he called the Jimmy Kimmel test—indicating he would only support a bill if it would include coverage for all, including those with pre-existing conditions, lower premiums for middle-class families, and no lifetime caps.
"There's a new Jimmy Kimmel test," he said. "It's called the lie detector test. You're welcome to stop by the studio and take it any time."
But on Wednesday morning, Cassidy lashed back, telling CNN anchor Chris Cuomo, "I'm sorry he does not understand." (Kimmel described this, in his monologue, as "the all-comedians-are-dummies card.") At the same time, Fox & Friends host Brian Kilmeade described Kimmel as a member of the "Hollywood elite" who are "pushing their politics on the rest of the country." (He neglected to mention, of course, that this is what Republican health care proposals themselves are doing—not one state supported the American Health Care Act, which the New York Times called "the most unpopular piece of legislation Congress has considered in decades" in June.)
Trump also chimed in on his preferred platform, proving he still doesn't know a proper noun from its lowercase alternative in addition to not understanding the health care bill he endorses: "I would not sign Graham-Cassidy if it did not include coverage of pre-existing conditions. It does! A great Bill. Repeal & Replace."
So during Wednesday night's monologue opening Jimmy Kimmel Live, the host was unsparing in his criticism of Cassidy—and of Kilmeade, who he called a "phony little creep." In particular, he punctured Cassidy's claim that he "does not understand": "Help me out. Which part don't I understand?" Kimmel demanded, listing the bill's more toxic provisions (which is most of them), like its drastic, $243 billion cut to federal health care spending. "Which part of that am I not understanding? Or could it be, Senator Cassidy, that the problem is that I do understand, and that you got caught with your G-O-Penis out? Is that possible? Because it feels like it is."
For Kimmel, the issue is personal: Three days after the birth of his son, Billy, he underwent surgery for a congenital heart defect. Kimmel's insurance covered the procedure; he met other parents who would struggle to pay their child's hospital bills. "I'm politicizing my son's health problems because I have to," he said Tuesday.
And while Kimmel said he doesn't "want to turn this into a Kanye-and-Taylor-Swift-type situation," referring, of course, to the two musicians' feud dating back to when West stepped onto the stage during Swift's MTV Video Music Awards acceptance speech, there is one thing he, Swift, and Arya Stark all have in common: They all have a list of names. Cassidy, Kilmeade, and even Chris Christie's names are all in red, underlined.
At the end of his monologue Wednesday, he noted that the previous night's screed had been viewed a million times already—but he added, when the New York Times got in touch with Susan Collins, the senator from Maine who is widely credited (along with Alaska's Lisa Murkowski) with the demise of the American Health Care Act, her office volunteered that they had not received a larger volume of calls than usual.
"If that is true, this is why things like this keep happening," he said. "Because we don't do anything about them."