J.J. Martin on How to Scandalize Italian Fashionistas
All it takes is wet hair. And a little American swagger. The Milan-based writer tells all.
---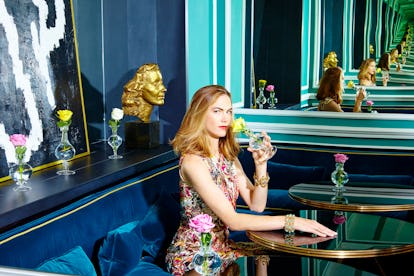 J.J. Martin doesn't have time for a face mask. Lipsticks, on the other hand, are a different story. As Milan Fashion Week begins, the dynamo Milan denizen and founder of LaDoubleJ reveals her favorite beauty finds, including one or two local finds.
What's your first beauty memory? Pillaging my mother's bathroom drawer at age 5 or 6 and drawing all over my face with her bronze colored lipstick and black mascara. I soon got better at it and every time I had a friend over to play, we did beauty school in the bathroom. I was always in charge. I creative directed every square centimeter of my friends' faces and left them photo-shoot-ready when their mothers came to pick them up in their suburban station wagons. This was all before the age of 11.
What was your worst beauty blunder? A perm in the seventh grade. But in all fairness, my perm was pretty good; an edgy guy on Montana Avenue in Santa Monica in the mid '80s did it together with a rather good chin length hair cut. The problem is that I paired my perm with a mouthful of braces and lips smeared with frosted pink lip gloss. The combo was pretty lethal.
What beauty products are currently in your purse? I keep almost all of my makeup products in my purse because I always leave make-up application to the last minute. I have a bottle of Marc Jacobs' genius gel foundation in Beige Light, which a makeup artist introduced me to – it is fantastic! I have They're Real Mascara from Benefit, Tom Ford Lip Color in Cherry Lush, which is the best blue red on the planet and perfect for dramatic evening lips. It really makes your whole outfit. My day lip is Mac Cremesheen Glass in Courting Chic, which looks dark in the bottle but is actually the most amazing sheer sparkling berry. I love it. There's also an eye liner from Make Up For Ever that I only use if I'm going out at night. It's water-proof, the shade name is #10 (a dark brown) and it's the only one that doesn't run down my face half way through dinner.
What's your 5-minute morning beauty routine? I am so pathetic. My morning beauty routine is even shorter than 5 minutes. I take a shower with Aesop shampoo and body cleanser – I often leave out conditioner as it makes my hair fluffier if I don't use it. I leave my hair wet every day. Yes I do – and this deeply scandalizes the Italians. In the winter, it actually sickens them. I simply brush it into a severe side part and tie it back into a little bun with an elastic band. I don't use any product in it at all. Three hours later I let out the band and my hair is dry with slight waves. It's perfect. For my skin I slap on Aesop body cream (the reason we have all of the Aesop products is that it's the only brand that both my husband and I can agree on. I hate to have too many products in the shower, so it's important to just have one we can both use). On my face I put on a Clinique Custom Repair Serum, Estee Lauder New Dimensions Shape & Fill and La Prairie eye cream. If I'm seeing anyone other than my full time office employees, I jump to the make-up-application-while-driving scenario. But usually I come to work with no makeup on and my eye bags in full view. At my age, I'm trying a new routine called humility.
If you had an extra 10-15 minutes in your routine, how would you spend it? I'd invite a reflexologist over to work on my feet. I'm obsessed with foot massages and how the pressure points impact other places in my body and mind.
What's your beauty hack? [Magazine editor] Kim Hersov told me about amino acids when I was last in London. Her skin looks preternaturally great so I bought a whole bunch of them and now I'm taking them daily like vitamins. Not sure how they are working. I'll get back to you in a few months.
Which beauty trend do you just not get? Facial masks. Why do they always gift us those? Nobody I know has time for a goddamned mask. It's so 1950s.
Which discontinued product or shade do you mourn? I'm not a big enough beauty girl to care. What I do mourn is the dearth of decent dermatologists in Italy. They are all hocking services that Vogue magazine was talking about in 1992. It's like they just discovered skinceuticals and microdermabrasion. It seems deeply counter intuitive in a country so obsessed with aesthetics. Their beauty situation is dire.
Is there a beauty professional you can't live without? Davide Diodovich and his color-magic side kick Susanna in Milan. Before I met them, my hair was so f—ing depressing. Every hairdresser in Milan was living in a 1980s death trap. Now people stop me on the street and ask me who does it. I also love the atmosphere in their salon which is a classic Milanese apartment with mid-century furnishings.
What's your beauty peeve? Shaving my legs. I did laser a few years back but the Italians aren't very advanced in their beauty techniques, so they left several corners of my legs and bikini line untended to. I now have to groom these patches with the razor which I find really loathsome. Normally, I ignore it, like a bad gardener. My poor husband.
What are you currently obsessed with? Energy and spiritual growth of all kinds. I see or speak with a different kind of healer or teacher every week – I have a whole crop of them around the world and they have all changed my life one tiny brick at a time. I'm dead serious about this. This out of everything has changed my life the most in the last two years. No cream or one hour workout can give you this feeling of wellness. I highly recommend it. I also recently quit sugar – a lifelong torture chamber that I could never have escaped without these new tools.