J. K. Rowling Sues Her Former Personal Assistant for Spending Her Money on Cats
Not to mention stealing Harry Potter merch.
---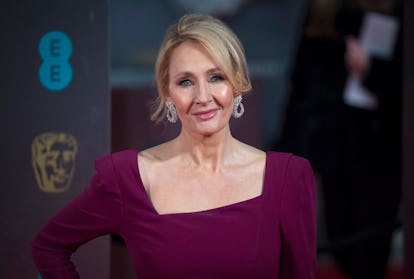 John Phillips/Getty Images
J. K. Rowling has come a long way in the past two decades, from being a single mom living on state benefits and taking refuge from her unheated flat in cafés, where she worked away on what would become the Harry Potter books. Twenty-one years after the first in the series was published, and 450 million copies of the books sold worldwide, along with a series of film adaptations grossing $7.7 billion later, the British author is now estimated to be worth $650 million—making the BBC's report of her suing her former personal assistant for scamming her all the more perplexing.
As for what Rowling thinks Amanda Donaldson, who worked for her from February 2014 to February 2017, is guilty of? Stealing more than a thousand pounds from her employer to secretly buy herself two cats. And, well, a bit more than that: Rowling alleges that Donaldson made £24,000 (or around $31,000) worth of unauthorized purchases with Rowling's business credit card, contributing to the $6,100 Donaldson allegedly spent on her cats. According to the Airdrie Sheriff Court, Rowling has also accused the 35-year-old Scottish native of even stealing Harry Potter merch without her "knowledge or consent."
The latter isn't as crazy as it sounds, given that handling fans' memorabilia requests was among Donaldson's responsibilities while in the employ of Rowling, who alleges that she leveraged that power to claim a motorized Hogwarts Express worth £467.56, a Wizard Collection box set worth £2,231.76, and a set of The Tales of Beedle the Bard worth £395. (Also allegedly stolen: £7,742 worth of foreign money from a mysterious safe.)
Rowling has kept an equally fastidious list when it comes to the thousands Donald allegedly spent; her itemized list of the suspected amounts spent include £2,139 at the card shop Paper Tiger, £1,482 at the candle and fragrance company Jo Malone, £3,629 in cosmetics at Molton Brown and, for good measure, £1,636 at Starbucks and £823 at Bibi's Bakery in Rowling's home of Edinburgh. By far the most intriguing line item, though, is the £1,200 Rowling has accused Donaldson of using to buy two cats.
If you're starting to think that all of this seems a bit petty coming from the person whom Forbes recently named as world's highest paid author, you aren't alone—though it's also worth considering that Rowling had other plans for those hundreds of thousands, given that she's donated $150 million to charity since transitioning to the upper class.
Donaldson, who denied the accusations, has maintained that Rowling had "not suffered any loss and is not entitled to damages," while Rowling has declined to comment publicly. Her spokesperson, on the other hand, briefly addressed the matter, telling the BBC that she could "confirm J. K. Rowling has taken legal action against her former personal assistant, Amanda Donaldson, following her dismissal for gross misconduct involving a substantial breach of trust." As for what exactly that "gross misconduct" consisted of, and, of course, more about those cats, stay tuned until later this year, when the case is due to head back to court.
Related: Despite Allegations of Domestic Violence, J.K. Rowling Is "Genuinely Happy" to Have Johnny Depp in Fantastic Beasts