The Story Behind Jo Malone London's Newest Fragrance
Celine Roux, the woman behind global fragrance development at Jo Malone, on "noses," headspace technology and the brand's newest Basil & Neroli scent.
---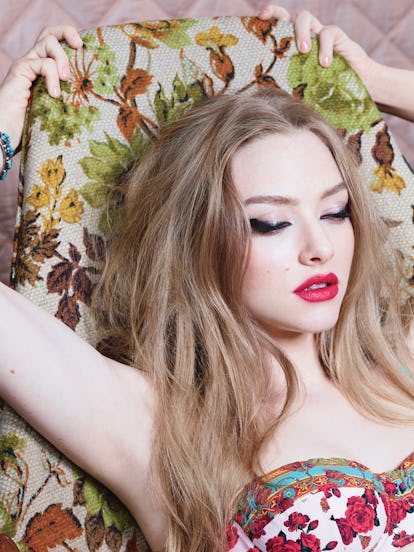 Photography by Craig McDean, styled by Edward Enninful.
In 1994, Jo Malone caused a stir in the fragrance world with her out-of-the-bottle thinking and quirky scents. Malone has since left the brand, but her mission lives on, thanks to Celine Roux, who has been the vice president of global fragrance development for over seven years. On a recent visit to her office, Roux introduced the brand's newest scent, Basil & Neroli, and answered all of my most pressing questions.
Are you an actual "nose"? I'm not a nose, but I work with noses. I see myself as the perfumer's coach. I brief them, I feed them with ideas, inspiration. Some brands don't talk about it as much; they'll take more credit [for creating the fragrance], but we're very open about the fact that we work with perfumers. I have very close collaborations with the few whom I work with because I spend so much time explaining the Jo Malone DNA to them. If I had to explain that every single time to a new perfumer, I don't think I'd ever get any work done!
But most perfumers are not British, correct? Correct, but it's very important for the perfumer we're working with to come to London when they're working on a Jo Malone project. I think it's very important, especially for an English brand, that they understand England. I'm French, but I live in London. I couldn't do my job if I lived in New York. It's essential that they live and breathe the Brits to understand and get inspired.
And you not being British maybe helps you see what a Brit might not. I do think the fact that I'm not English opens up more themes. If I were English, I don't think I'd like to do a fragrance based on the English coast because it's not glamorous the way other beaches are. But when I went there, I was just transported. I thought, this is fantastic! When I tell the English that's what inspired us to make our Wood Sage & Sea Salt, they say it smells like their childhood but I don't think they would have said, "Yes! Make a fragrance of that!" When it's different, you take a risk. I'm very lucky that the brand supports that.
So, you come up with the pairings? Yeah.
Where did you work before you got to Jo Malone? I was at Estee Lauder and Dior, but in makeup.
So this is your first foray into fragrance? Yes. When I started in fragrance, I knew some things because I grew up in the south of France and my grandfather imported flowers. But it's not like I can say I grew up in the fields of Grasse. [When I got the job at Jo Malone] I had to do my homework! I would go to the flower markets every weekend, I bought essential oils and learned [how to identify] them blind. But since I didn't have proper schooling or training, I speak more with my heart, so I have no boundaries and that can work to my advantage. For instance, when I tell a perfumer that I'd like a sorrel fragrance, she might say, "But you know sorrel is very difficult." And I just say, "Okay……but we're going to do it." In a way, it's liberating because I don't have rules. If a perfumer says something is impossible; I say, let's figure it out. Fragrance is so subjective, anyway.
Is there a Jo Malone mandate? There's nothing written. I suppose at some point, I should write it, but I have it in my head. Whenever I smell a scent, I always think, Does it smell like Jo? It has to smell natural, it has to smell qualitative. If you smell wood or a flower, it has to always have a certain transparency because you layer them. And there is always something a little bit different. Either the ingredients are a little unexpected or the combination is unexpected. And it has to be comfortable on skin; it can't be too weird. Sometimes if it's quirky I ask myself if I'd want to live with this scent. If that answer is no, then it's a bit too quirky.
But do you ever think, "I might not want to wear it, but I'd love my bathroom to smell like this!"? Yeah, when that's happened, we've done candles.
So not every candle is a wearable fragrance? Our Green Tomato Leaf candle is a perfect example, although an editor recently asked me to make it a cologne.
I would wear it as a cologne… Actually, I did put some of the green tomato leaf in Wild Strawberry and Parsley, one of our Herb Garden scents. But just a little dosage.
How many creations have you done for Jo now? I'd say 70 or 80, at least. Actually more, since I also do limited editions every year. I do ten per year.
Do you have a shelf of possibilities that you hope someday will be made? Tons, but it never feels challenging in a negative way. Everything is possible but you have to work with the right perfumers who also think anything is possible. The ones who say, "Yeah, sure! We don't know how we'll do it, but we will find a way!" which I think is very cool. It's nice to have that freedom, and it's very rare. Even with the perfumers, they say it's very rare to just go with what they believe in.
Shop the best new fragrances for fall here:
Imagine This: Surreal Fragrances to Shop Now
An herbalist eating fresh figs in a lean-to on the Appalachian Trail.
A socialite clipping sprigs of broom flower outside Portofino, Italy.
A woman in a Le Smoking at 3 a.m. in a head shop in the Haight in San Francisco.
An intern eating raspberry sorbet in the Kennedy Rose Garden.
Princess Kate chopping fresh basil in an orange grove.
An open cedar chest filled with peaches and balsam fir branches.
Crème brulee for two shared in the library after dinner at the Harvard Club.
Liquid amber trickling through stacks of chopped wood piled neatly against a cottage in the Black Forest.
A bowl of freshly cut apples ready for breakfast on the terrace of a Tuscan villa.

DGMilton
A rain-soaked batch of violets discarded on a mossy hilltop at dawn.
A young couple bringing lemon tarts home on a foggy morning in the Marais.
A fresh mimosas spilling into the sand during brunch at the beach.
Batches of lavender peeking through pine cones along a wooded path.
A recently discarded Violet candy wrapper sitting next to a cup of freshly pressed carrot juice.
Kendall Jenner ordering a bottle of black cherry soda from room service at The Hotel Costes after a night out with her friends in Paris.
A group of hikers sipping ginger tea with lemon as they soak in an Icelandic hot spring lagoon.
A painter treating herself to a scoop of orange sorbet while assessing her almost-completed work in her sunlit loft.
A debutante dressed in a velvet de la Renta gown wearing a wrist corsage of iris and black orchid.
A vendor opening her stall at Covent Garden while sipping on a cup of cocoa.
An intern at the Metropolitan Museum of Art heading out for a late dinner in her new leather jacket after a very long first day.
If there was a fire in your office and you could only grab one of the fragrances, which would it be? I can't answer that. There are so many and I'm really proud of them. I have the luxury to do them the way I want them. It's funny, somebody asked me, "Is it hard to work on something you don't really like?" And I said, "Then I don't work on it." For example, I don't like to do aquatics, so I don't make aquatics. It's that simple.
So is Wood Sage and Sea Salt the closest you come to aquatic? But that's not really aquatic. It's not ozonic [breezy, often beachy scents] – I don't like ozonics at all. I remember when I made Tuberose Angelica. The problem was that I thought I didn't like tuberose, but then I realized that tuberose smells great in its natural form, but it's impossible to find that in England. Once I found fresh tuberose in a flower market in India, I dove in!
Do you use headspace technology? [The technique of elucidating the odor compounds present in the air surrounding an object.] Each time I hear about a new technology, I have to experiment. I'm like a kid: Ooh! Sounds like fun! When we made Basil & Neroli, we got the headspace of plants of basil and orange flower tree, put them in a glass bell, then extracted the scent of the two leading plants together. It's actually done in a green house in New Jersey.
Ah, the garden state. But when we did the Herb Garden collection, we couldn't get English lavender. I was like, "I cannot have just French lavender in an English herb garden collection!" So we did a headspace of English lavender. And it just opened up. Sometimes the scent you get is closer to nature than the natural version.
Really? Why is that? Mimosa absolute is a perfect example. It smells so different from natural mimosa that many don't know what real mimosa smelled like. It's not this fluffy flower. It's much deeper, because they basically distillate everything. They can't just take just the flower. They also get the twigs.
Ooh, I bet it smells great. We also implemented something called NaturePrint technology, which captures the molecules of an ephemeral scent, when we couldn't get the Omani incense from the Boswelia sacra tree—it's rare and a protected resource. So [perfumer] Marie Salamagne and I used NaturePrint to recreate the moment when the incense burns. It was the first time Omani incense was captured this way in perfumery.
What are your personal favorite smells? The scent of my sons; Felix and Oscar. Especially after they wake up. Now, there's your next challenge! Do you switch up what you wear? It's terrible but I only wear what I'm working on. Even on the weekends, I have two fragrances on me all the time. I spray my husband, even my children, and I follow them two hours after. They're like, "Mom, you can still smell it!"
Related: Watch Jane Larkworthy search for the perfect scent: