Joan Collins Joins American Horror Story (and Anjelica Huston Might, Too)
Move over *Angels in America,* there's a new gay fantasia in town.
---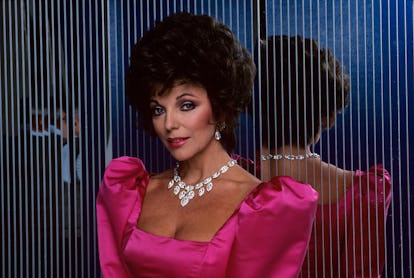 ABC Photo Archives
Ryan Murphy is pulling out the big guns in his never-ending war with Erika Jayne to "give the gays everything they want." He's gone and cast Joan Collins in the next season of American Horror Story, a revelation he casually dropped in an interview with The Hollywood Reporter. In his exact words, he's "throwing in Joan Collins," like he's a chef in the kitchen with a spice rack full of Hollywood icons trying to decide who to add into his biggest, campiest, craziest gumbo of an American Horror Story season yet. A dash of Kathy Bates here, three scoops of Sarah Paulson, a pinch of Angela Basset, and, hmm, oh, yes, a bit of Joan Collins for flavor.
He also says he's "interested" in Anjelica Huston, as is everyone who has now read that sentence. Yes, we need to see the Grand High Witch and Morticia Addams herself in AHS.
As is customary, the public actually knows very little about the upcoming season of the show. Murphy has revealed that the installment will take place sometime in the future, a first for the show. He's also revealed that AHS alum Sarah Paulson, Evan Peters, and Kathy Bates will be returning as the three leads for the season. Many fans have theorized that the next season may be postapocalyptic themed and potentially subtitled "Radioactive." The going gossip is that it may center on a group of survivors who were unaffected by any potentially mutating nuclear waste. "It's an interesting idea," Murphy has said of the rumor. "I can neither confirm nor deny."
Dylan McDermott has also teased that he may return to the show, while also hinting it will indeed take place "in the near future."
Which is all well and fun, but begs the question: How exactly does Dame Joan Collins, DBE, the woman who first came to fame in America thanks to her iconic portrayal of Alexis Colby in the 1980's prime-time soap Dynasty, fit into the setting of a nuclear wasteland? The answer is, likely: Who cares? Just long as we're all collectively gagged by it and get a few choice GIFs in the process, does it matter too much?
Collins, meanwhile, still enjoys an active career and a globe-trotting life at the age of 84. She's frequently between her native London and Los Angeles, as evidenced by her Twitter account. She also has a recurring role on The Royals as Grand Duchess Alexandra of Oxford, the mother of Elizabeth Hurley's character, and her movie résumé in recent years includes a lead role in British indie The Time of Their Lives and a cameo in the Absolutely Fabulous movie. So, she's still acting, and it only makes sense for Murphy to put her to work.
Murphy, of course, has a knack for casting legends and icons of a certain quality in his programs. He snagged the holy grail by casting Barbra Streisand in an upcoming Netflix project, and, aside from Jessica Lange, AHS alone has included roles and cameos for the likes of Lady Gaga, Naomi Campbell, Patti LuPone, Kathy Bates, Stevie Nicks, Chloë Sevigny, Trixie Mattel, and Patti LaBelle.
We're sure that Murphy doesn't actually need help in the department, but if he's looking for ideas for other potential AHS troupe members that would set certain parts of Twitter on fire, well…
Courtney Love
Nicki Minaj
Lana Del Rey
Speaking of AbFab, why not Jennifer Saunders and Joanna Lumley?
Bette Midler
John Waters
Angela Lansbury
Mo'Nique
Miss Vanjie
Miss…Vanjie.
Related: https://www.wmagazine.com/story/barbra-streisand-gwyneth-paltrow-ryan-murphy-netflix-show