Barbra Streisand and Gwyneth Paltrow Will Join Ryan Murphy's New Netflix Show, The Politician
Netflix's The Politician will star Ben Platt and reportedly feature Barbra Streisand and Gwyneth Paltrow in supporting roles.
---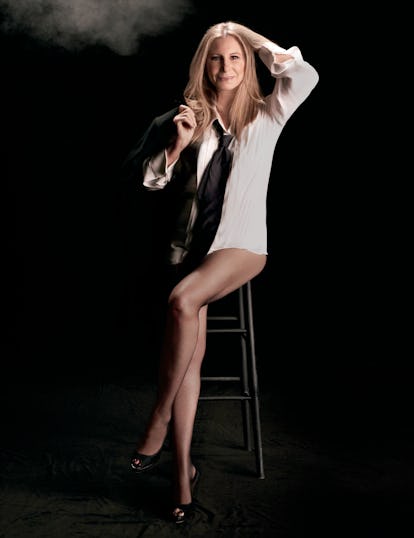 Forever Barbra. Photo by Steven Meisel, styled by Edward Enninful. W Magazine, December 2016.
Just when you thought the Ryan Murphy television universe couldn't get any bigger, the mastermind creator pulls off yet another feat of casting. If Big Little Lies gets to have Meryl Streep, then Ryan Murphy's new series will attempt to one-up HBO with Barbra Streisand, who is reportedly in talks to join an upcoming Netflix series with Gwyneth Paltrow and Dear Evan Hansen's Ben Platt. The Tony Award winning Platt will will take on the lead role of Payton in The Politician, an hourlong comedy series about a wealthy aspiring politician from Santa Barbara who finds himself caught in a new political race each season. The series was caught in a bidding war between Netflix, Amazon, and Hulu, until it was negotiated that The Politician would live on Netflix with a two-season order.
Of course, it wouldn't be an official Ryan Murphy joint if it didn't feature musical numbers (don't worry, Platt will reportedly perform many of those), and Murphy, Brad Falchuk and Ian Brennan formerly collaborated on Glee, hence the inclusion of some song-and-dance moments in a series about Santa Barbara politicians. If the deal closes for Streisand to co-star, she will also reportedly serve as a producer with Paltrow and direct a few episodes of her own. This could be a major television moment for Paltrow, who previously brought home an Emmy for guest starring on Glee in 2011.
A few details of the series announcement have yet to be fully parsed, one of them being the deal Murphy has with 20th Century Fox TV, the parent company of FX, but it is reported that his deal will end in 2018. Even a few months before Disney's $52 billion acquisition of 20th Century Fox, it was announced that the House of Mouse would remove its content from Netflix to make way for a streaming platform of its own, where it could potentially screen not only the animated classics, but films from the Marvel cinematic universe as well.
A quick review of Murphy's upcoming slate: he has another Netflix series with Sarah Paulson coming up called Ratched, which is a conceptualization of the character Nurse Ratched from One Flew Over the Cuckoo's Nest; two more seasons of American Crime Story, one of which is currently on the air; and at least one more season of Feud and the musical drama series Pose. When does the man sleep?
Related: Gianni Versace's Family Breaks Their Silence on American Crime Story