Gianni Versace's Family Breaks Their Silence on American Crime Story
The Versace family are not big fans of the upcoming series about his murder.
---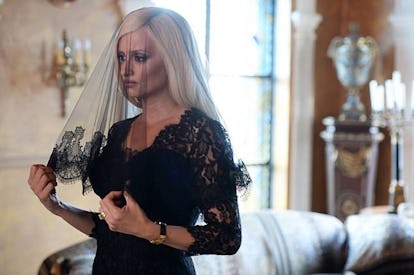 With anything of the "true crime" genre, there will be criticism of how factually events are represented—and this time, it's coming directly from the subject's family. The Versaces are reportedly not big fans of Ryan Murphy's upcoming American Crime Story: The Assassination of Gianni Versace. The family has released a statement concerning Murphy's fictionalization of Gianni Versace's murder by Andrew Cunanan, publicly denouncing the upcoming FX drama series and urging viewers to watch the show with a grain of salt.
"The Versace family has neither authorized nor had any involvement whatsoever in the forthcoming TV series about the death of Mr. Gianni Versace. Since Versace did not authorize the book on which it is partly based nor has it taken part in the writing of the screenplay, this TV series should only be considered as a work of fiction," a representative detailed in a statement.
This is not the first time the Versace family has expressed their doubts about American Crime Story, but it is the first official statement to come from the family's representatives directly. Last summer, at a Television Critics Association event, Ryan Murphy revealed that Donatella Versace had come to him with concerns about the nine-part installment of the anthology series, particularly how her children Allegra and Daniel would be depicted, as they were quite young when Gianna Versace was murdered. Antonio D'Amico, who will be played by Ricky Martin in American Crime Story, also had his doubts about the representation of his reaction to discovering his partner Gianni's death, dismissing fictionalizations of the high profile murder as teeming with "not a trace of reality."
Penelope Cruz, who will play Donatella Versace, has been part of the pipeline to the Versace family, and had also previously expressed her concerns for sensitively portraying the murder and trial. "I didn't want to do an imitation of Donatella, or a caricature. I wanted to try to capture the essence of who she is," Cruz said in a conversation with Gwyneth Paltrow published in Interview. After revealing that she spoke to Donatella Versace before tackling the performance, Cruz said, "I really hope that when she sees the show, she's going to be happy. I'm sure there are going to be scenes that are hard for her to watch, because it's a lot about the loss of her brother, which, of course, I have so much respect for. I did it with all my love. From that place of devastation, she had to keep this company going in his honor. I don't know if she ever said this, but it was a way of keeping him alive."
Update 1/9/8 at 12:49 p.m.: FX has released a statement standing by their fictionalization of Versace's assassination by Andrew Cunanan. "FX's follow-up The Assassination Of Gianni Versace is based on Maureen Orth's heavily researched and authenticated nonfiction best-seller Vulgar Favors, which examined the true life crime spree of Andrew Cunanan. We stand by the meticulous reporting of Ms. Orth," the network claimed in their statement supporting the anthology series. As The People v. O.J. Simpson was based on a nonfiction bestselling book by Jeffrey Toobin, Versace is also based on journalistic reporting about the assassination. The first installment of the anthology series took home nine Emmy awards in 2016, including Outstanding Lead Actress in a Miniseries or a Movie for Sarah Paulson and Outstanding Limited Series, and was praised for its commitment to accuracy, so the upcoming new season will have some very big shoes to fill.
Update 1/10/8 at 11:17a.m.: Now, after Cruz has claimed to have received flowers directly from Donatella Versace herself, it is being reported that she does not stand by FX's version of her brother's assassination. Insisting that Maureen Orth's book is "full of gossip and speculation" the family has released their statement asserting that the information in the FX series is inaccurate. "Of all the possible portrayals of his life and legacy, it is sad and reprehensible that the producers have chosen to present the distorted and bogus version created by Maureen Orth," said the family in their statement. The Versace family insists that this will be their final comment on the production of American Crime Story.
Related: Penelope Cruz Is a Mourning Donatella Versace in Assassination of Gianni Versace Trailer