What Disney's $52 Billion Acquisition of 20th Century Fox Means For Your Favorite Comic Book Franchises
Could we see the Avengers, the X-Men, and the Fantastic Four in the same movie?
---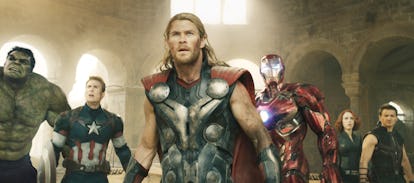 Walt Disney Co./Courtesy Everett Collection
For a few weeks discussion of a potential merger fluttered around, but now, it is actually happening—The Walt Disney Company has acquired 20th Century Fox for $52 billion, and now all of our fandoms will surely collide. Trying to sort through the gobbledygook concerning who owns what franchise can be daunting, but basically, Disney now owns nearly every franchise you have ever heard of. One of the most notable dimensions of the merger is the combination of franchises that were formerly split up amongst a few distributors. The Marvel cinematic universe was previously divvied up between Disney, Sony, and Fox, with X-Men and the Fantastic Four franchises going to Fox and Disney nabbing the Avengers. But now, Disney will own them all.
Disney bought Marvel back in 2009 for $4 billion, and was given a limited license by Fox to spin Daredevil into a Netflix series, but these franchises now live under one roof. Netflix and other streaming services should also be on high alert—Disney plans to introduce a competitive streaming platform, and since they hold the rights to a plethora of sought-after franchises, the existing streaming services could potentially take a big hit.
In 2012, Disney acquired Lucasfilm, the production company founded by George Lucas, for just over $4 billion. However, the first installment of the franchise—Star Wars Episode IV: A New Hope—remained under the control of Fox in perpetuity. Now that Disney owns Fox, the House of Mouse will obtain full ownership and distribution rights for all Star Wars films. Ridley Scott's Alien, The Simpsons, Buffy the Vampire Slayer, The X-Files and more franchises will now fall under Disney's reign. Disney will also be able to expand its theme parks across the globe to include franchises that previously existed under Fox.
Fox's television division—once a competitor of Disney's ABC Studios—also produces some of the most popularly binge-watched series, including This Is Us and American Horror Story, and holds a stake in Hulu. Acquiring this television division marks a major shift for Disney, as ABC Studios has struggled to keep up, losing Grey's Anatomy to Netflix earlier this year. Thinking globally, Disney will be sinking their teeth into Europe's biggest media company, nabbing Fox's 40 percent hold in Sky. They will also take Fox's majority ownership of National Geographic and Star India, a Fox subsidiary in India.
While it will be good for continuity's sake that the Avengers, the X-Men and the Fantastic Four can all team up to take down baddies in one mega-movie about mutants with superpowers, it might give extreme fans a bit of a headache to remember that some actors who have portrayed different superheroes in multiple franchises—Chris Evans was once the Fantastic Four's Human Torch, but now he's Captain America, and will likely never go back. Sure, there will be fun for literally the entire family—there's no way anyone can look at Disney's roster now and not find something they are a fan of, whether it's an animated cartoon or a live action soap opera—but the behemoth's new acquisition of Rupert Murdoch's Fox is overwhelming. Now that Disney owns just about every marketable franchise under the sun, from live action to comic book to animated series and video games, take a second to imagine a scenario where you walk into the Magic Kingdom with your whole family and it's This Is Us meets Avatar meets Mickey Mouse meets Avengers. Imagine playing Toontown with Hulu's Handmaid's Tale characters. It's just too much! Disney's acquisition of Fox marks a potentially huge cultural shift in the way we stream, the way we visit amusement parks, and of course, the way we think about some of the most iconic media franchises in history.
Related: A Look Back at Celebrities Letting Loose at Disneyland, From Katy Perry to Angelina Jolie
Milo Ventimiglia loves, loves Disneyland: