A Look Back at Celebrities Letting Loose at Disneyland, From Katy Perry to Angelina Jolie
On the park's 62nd anniversary, take a look back everyone from Rihanna to Hugh Jackman's freewheeling pilgrimages to Anaheim, California.
---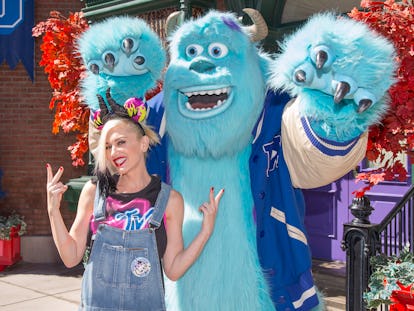 Handout/Getty Images
Disneyland turns 62 today, but the so-called Happiest Place on Earth has never gone out of style, as evidenced by Angelina Jolie, Hugh Jackman, and Mandy Moore's pilgrimages to the park all just this past weekend. (The latter may have been inspired by her This Is Us costar, Milo Ventimiglia, who recently told W he was in fact "raised at Disneyland.") In honor of its anniversary, take a look at some of Hollywood's best moments in Anaheim, California, from Orlando Bloom and Katy Perry's hands-free rollercoaster ride to Brie Larson's tears at meeting Minnie Mouse.
Angelina Jolie
This past weekend, Angelina Jolie went for a swing with four of her children, and even indulged in eating a giant lollipop.
Irina Shayk
Irina Shayk also dug in at the park earlier this year, though Pluto apparently caught her in the act of "stuffing [her] face."
Hugh Jackman
Hugh Jackman was another name in Disneyland this past weekend, and while his family may not have tagged along this time, he managed to find some company in the form of the creator himself.
Brie Larson
A self-described Mickey "mega fan," Brie Larson was so happy to meet the mouse last summer that she cried.
Kourtney Kardashian
Kourtney Kardashian once spent a full 12 hours at the park, which, given her return trips, including for her birthday this year, still apparently wasn't enough.
Katy Perry and Orlando Bloom
In another moment of freedom, Orlando Bloom went hands-free on Hyperspace Mountain last year with his then-girlfriend Katy Perry.
Joe Jonas and Gigi Hadid
Joe Jonas and Gigi Hadid also proved an equally enthusiastic now defunct couples on the rides last year, with Gigi wearing enough Mickey and Minnie merch for the pair of them.
Bella Hadid and Gigi Hadid
Gigi made new memories at the park a few months later, when she headed to Disneyland Paris and seemed to have much more fun with her lil sis Bella Hadid.
Mandy Moore
Perhaps at the suggestion of her This Is Us costar, Milo Ventimiglia, Mandy Moore also headed to the park this past weekend, obligingly pausing for fan photos.
Anne Hathaway
Anne Hathaway was ahead of the curve when she headed to Disneyland in 2004 for The Princess Diaries 2—and went full vacation mode by wearing jeans to the film's premiere.
Julie Andrews
Hathaway's costar Julie Andrews also returned to the park the next year for its 50th anniversary, where she seemed to be overflowing with love.
Steven Tyler
Steven Tyler apparently liked the park so much when he attended the world premiere of the fourth Pirates of the Caribbean movie that he returned earlier this year to celebrate his 69th birthday.
Olivia Wilde and Jason Sudeikis
Back in 2013, Olivia Wilde and Jason Sudeikis decided to celebrate their engagement by paying Wilde's first visit to the park, where she quickly got acquainted with the Sword in the Stone.
Lupita Nyong'o
Lupita Nyong'o was also a first-timer before she dropped by in 2015, though that didn't stop her from blending in with a festive set of ears.
Gwen Stefani
Something of an MVP when it comes to the park, Gwen Stefani made one of several appearances in 2014, this time alongside Monster Inc.'s Sulley.
Rihanna
No roundup would be complete without Rihanna, who showed up at Disneyland last summer to celebrate her niece's second birthday—and carry her throughout the park herself.
Billy Corgan
Still, perhaps most memorable in the Disneyland hall of fame is the frontman of the Smashing Pumpkins Billy Corgan, who made headlines in 2015 when he managed to look like the most miserable man in the world at the Happiest Place on Earth. "I'm not here to do a meet and greet," Corgan said of his Big Thunder Mountain Railroad ride at the time. "What the f— do you want from me?"
Related: Andrew Garfield's Idea of Heaven Is Disneyland and Pot Brownies
Milo Ventimiglia Loves, Loves Disneyland: