Joanna Vargas, Facialist to Julianne Moore, on Non-Invasive Antiaging
Celebrity facialist (and star in her own right) Joanna Vargas recently opened an atelier in West Hollywood – just in time for awards season.
---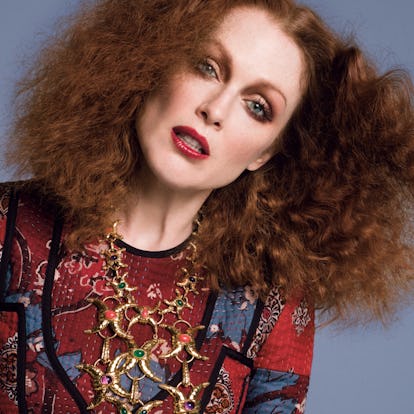 Photo by Inez & Vinoodh, styled by Edward Enninful. Hair by James Pecis for Oribe; makeup by Jeanine Lobell for Dior at Tim Howard Management.
For the past ten years, the New York-based facialist extraordinaire Joanna Vargas has been tending the complexions of some of Hollywood's brightest (and most hydrated and dewy) stars in an airy office in midtown Manhattan. Now (just in time for the Emmy's), A-list acolytes can experience her high-tech face and body treatments in a cozy, uber-private new atelier near buzzy 3rd Street in West Hollywood. Here, she shares some of her secrets ahead of the opening.
Why do clients come from far and wide to see you? I think they come here because they prefer a non-invasive, but technologically-advanced approach to anti-aging. I vet all the latest technology, and create custom protocols for my clients. I love machines, but there is no one magic machine – it's really about a carefully considered combination.
That said, what's your hero machine? I would have to say it's radiofrequency. Of course, radiofrequency has been around a while, but the RF machine I use in my Forever Facial can increase collagen production by 20 percent – it literally pushes the collagen fibers together for a tightening effect. My clients want to look perfect all over, especially for red-carpet events, so I also use it on the fronts of arms, backs of arms and even where your bra cuts. You see an immediate all-over tightening effect in one treatment, and over a series, you'll see a BIG difference. Clients also love my LED light bed, which helps reduce inflammation, a precursor to aging. I have 60-year-old clients who look 40.
You have quite a roster of celebrity clients. Can you name names? Like I said, my clients tend to want to avoid invasive techniques and injectibles, and my celebrities are no different. For example, I see Julianne Moore. She would never do anything invasive – it's just not her style. She's obviously naturally beautiful, but she is also VERY careful about wearing sunscreen. For anyone who thinks sunscreen isn't that important: Julianne will tell you it's her biggest beauty secret. I also see Naomi Watts, Rachel Weisz, Maggie Gyllenhaal, Sofia Coppola and Jenna Dewan Tatum, among others.
Who has the best skin in Hollywood? My clients, naturally! A lot of the women who come to me do a combination of things that make them look their best. Beauty isn't necessarily about DNA. It's lifestyle – what you're putting in, what you're leaving out, how much sleep you're getting. Almost anyone can have great skin if they work at it.
What prompted you to open an atelier in Los Angeles? I've been going out to LA to see clients for years, and have always kicked around the idea of opening a salon there. But I'm a perfectionist and wanted to be able to offer the same quality of service there that I do in New York. During the past two awards seasons, however, I realized I had to do something. I travel with so much stuff, it was getting to be too much.
Tell me about the space. I knew I wanted to be in West Hollywood, because I really like a neighborhood-y vibe. And being a New Yorker, I didn't want to have to drive everywhere. So it had to be an area with shops and cafes I could walk to. I found the perfect space, right near 3rd Street. As for the interior, I wanted it to look homey yet stylish, like a private home or retreat. My close friend, Gabriel Marrazzo, helped me with the decor. He's a costume designer and stylist by trade, so he's naturally very adept visually. Like my New York space, the LA one will be open seven days a week. I have trained five estheticians very carefully, and I will be there myself the last week of every month.
What general skin care advice do you give clients? I know it's old-fashioned, but I'm a big fan of dry-brushing every day. It's a great way to maintain the skin all over your body. And of course, wear sunscreen all the time – whether you're sitting in the car, at work, on your way to the gym – ALWAYS! One of my clients introduced me to Supergoop!, which I love. She's a television actress, and needs to reapply SPF all day when she's shooting outside. She uses their Setting Mist SPF 50, which sprays right on, sets makeup and has a matte finish.
Besides sunscreen, hydration is key. What moisturizers and serums do you prefer? From other people's product lines, I like CV Skinlabs, a non-toxic line with anti-inflammatory properties. They have a skin balm that is really good for people with eczema, or any other type of inflammation or sensitivity.
How about your own skincare line? I like immediate results when it comes to products. Like a lot of my clients, I suffer from melasma. My new Eden Instant Lift Mask brightens, lightens, firms and hydrates with the help of Swiss-apple stem cells and hyaluronic acid. It will completely change your skin tone in one go. I love masks. They're a great solution. You can throw them in your carry-on and put them on during flights. I have a few actresses who even sleep in them at home. I also love my Rejuvenating Serum, which is very simple, based on five oils that help fight photoaging and cell mutation. It's super hydrating without being greasy, and smells divine.
I'm obsessed with your Miracle Bar, that chic little black bar soap. It's one of the products I am most proud of! It took me over a year to perfect it. It contains charcoal, which holds 1,000 times its weight in toxins, but charcoal can be drying, so I balanced it with olive oil and shea butter. This soap can be used by someone with acne, or by someone with dry skin. Maybe you've used a lot of sunscreen over the summer, and your pores are a bit clogged. Use this for a week every night before bed, and you will have a total re-set. It's important to wash before bed, because your body repairs damage at night, while you're sleeping. You want to help the process by getting all the day's dirt and pollution off your skin.
You mentioned that your Rejuvenating Serum contains five different oils. How do you feel about face oils in general? Face oil can be great. The key is to use one that contains jojoba oil, as it's closest to your skin's natural sebum.
What other treatments and technologies excite you? I've been testing out different micro-needling technologies – I really like micro-needling. Not to be confused with dermarolling, which I am not keen on at all. That said, I have a friend who absolutely swears by it. I think Clear & Brilliant (laser treatment) is pretty rad, but it's also dangerously overused. Once a quarter is plenty.
Which dermatologists do you refer clients to when they want a laser treatment or something a bit more invasive, like Botox? I try to match the client with a doctor they will like, depending on what they're looking for, but my four go-to's are Dr. Robert Anolik, Dr. Sherene Idriss, Dr. Paul Jarrod Frank and Dr. Anetta Reszko.
What is the biggest skincare mistake you see? Overdoing retinols after your thirties is a pretty classic mistake. Your skin thins as you age. Why thin it out more by using too much retinol or glycolic acid? It doesn't make sense.
Any skin-centric nutritional tips? I tell anyone who is having trouble with their skin, whether it's dry or breaking out, to get more veggies in their system. Especially greens. Your body needs as much green stuff as possible. Greens tend to have minerals that stimulate the lymphatic system, which naturally, is good for de-puffing. I try to have a green juice every day, like Supa Dupa Greens from Juice Generation. It doesn't have a lot of fruit, and therefore it doesn't have a lot of unwanted sugar. I also adore Dr. Frank Lipman's Recharge shake. It's packed with greens, which are mixed with whey protein. It's great for breakfast or as a mid-afternoon snack. Even my kids drink it, and if they can do it, anyone can. It's what I love about Dr. Lipman – he makes good nutrition do-able. I also send clients to him for acupuncture and vitamin pushes (IV treatments). I swear by vitamin pushes. I can't afford to get sick during awards season, so I start getting them about a month before.
What's your favorite part of the job? Making women happy. For example, I have one client who is a bit older. She was getting married, and she was unhappy with what she thought was a bit of fat on her back. It was actually lax skin, so we were able to tighten it. She was over the moon. These days, with modern technology, we can address loss of elasticity and loss of collagen. For me, there is nothing more special than being able to make women feel beautiful and truly comfortable in their own skin.
Watch W's most popular videos here: