Joaquin Phoenix Isn't Intimidated by Heath Ledger's Interpretation of the Joker
He's rumored to be playing the Joker in an upcoming DC Comics film.
---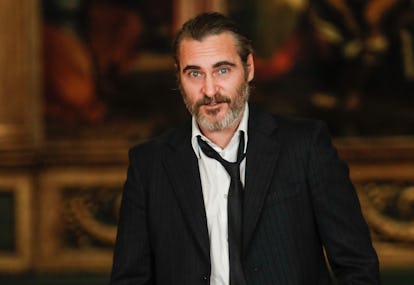 David M. Benett/Dave Benett/WireImage
Joaquin Phoenix is on the rebound. The actor, who has laid relatively low since 2013's Her and the following year's Inherent Vice, has four films out this year and a few in the works. One of them may be a new DC Comics movie being helmed by Todd Phillips about the origin of the Joker. While Phoenix hasn't himself confirmed the role, it was reported in February, via Variety, that he was in talks to join, and it has since been listed on his IMDB page. Phoenix has, however, revealed that he wouldn't be afraid to fill Heath Ledger's shoes in a new iteration of the role.
When asked point-blank by Collider if Ledger's performance in 2008's The Dark Knight intimidated him, Phoenix answered that question delicately. "There are different interpretations," he said. "It's so interesting; I was just thinking about it today, it seems so unique in some ways to comic books. I think there's probably room for that. Maybe it's like doing a play, like you always hear about people doing something— 'You should have seen this actor in this performance'—but then other actors do it and it's a different kind of film. I think that genre, comic books, kind of lends itself to having different people play the same character and interpret it in a different way. It's kind of built into the source material in some ways. I think it's cool when people do that."
What's more is Joaquin Phoenix also shared that, like many other prestige actors as of late, he's attracted to the idea of doing a superhero film. (Though he didn't specify that he wants to do Phillips's Joker film.) "I think about superhero movies the way that I imagine Westerns were," he said. "There were just these comics that were like Westerns, and then they started making movies. At some point, someone came along and was like, 'Wait a minute, we can actually really explore something here, about humanity and the character.' I think that there's that potential with any movie."
Of course, if you're thinking, "Wait, isn't Jared Leto the current Joker?" Well, apparently the new project would not overlap with the current DC Cinematic Universe, thus allowing for two versions of the character in separate films at once.
Related: Rooney Mara, Currently Cohabiting with Joaquin Phoenix, Is Putting Her Los Feliz Home Back on the Market