Rooney Mara, Currently Cohabiting with Joaquin Phoenix, Is Putting Her Los Feliz Home Back on the Market
The actress recently moved in with her boyfriend after a year of dating.
---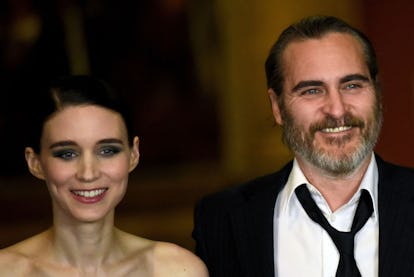 Dave J Hogan/Getty Images
The low-key union of Rooney Mara and Joaquin Phoenix is one that can officially no longer be ignored. Apparently, things have gotten so serious for the pair after a year of dating that Mara has not only moved in with her boyfriend, but has now put her home in L.A.'s Los Feliz Oaks on the market for $3.45 million.
Mara bought the home for $2.9 million from Big Little Lies actor Alexander Skarsgård in 2015, and then listed the house for $3.8 million in May 2017—shortly after she went public about Joaquin Phoenix being her boyfriend. According to the Daily Mail, the two-bedroom, two-bathroom Los Feliz house features an open floor plan and floor-to-ceiling windows, measuring just over 2,300 square feet and sitting above a tiered garden at the edge of a cul-de-sac.
The two actors filmed Spike Jonze's 2013 film Her together, where they played exes, but did not officially update the public on their relationship status until they began making Mary Magdalene—an upcoming biblical drama in which they will play the doomed couple of Mary Magdalene and Jesus Christ—and began showing up on red carpets together. Phoenix confirmed with T Magazine in September 2017 that he and Mara live together in the Hollywood Hills, where they go to bed by 9 p.m. after watching true crime documentaries on Netflix (Mara loves those, according to the profile), and wake up early in the morning so Phoenix can hang out with his dog, meditate, and read scripts for potential roles. That sounds like a nice evening routine that could be worth the price cut on Mara's property listing, as long as there is no force feeding of baked desserts (especially pie).
Related: Tyra Banks, Real Estate Mogul, Has Built Enough of an Empire in the Pacific Palisades to Rival Taylor Swift
Variations on an Elegant Theme: Rooney Mara's Signature Hair and Makeup Is Always Changing
Attending the premiere of her breakout film A Nightmare on Elm Street in 2010, actress Rooney Mara wore her hair in a softly tousled braid swept back with an embellished headband.

Getty Images.
At the The Girl on With the Dragon Tattoo premiere in 2011, Mara wore her dark hair in a sleek side part with a natural face and a red lip.

Getty Images
Mara stunned at the 84th Annual Academy Awards in 2012, where she received her first Oscar nomination for her leading role in The Girl on With the Dragon Tattoo, with blunt bangs, a natural smoky eye and a red lip.

Getty Images.
Opting for a sleek half-up, half-down do, Mara had a softer look at the Ain't Them Bodies Saints screening in 2013.

Getty Images.
Keeping it au natural at the 67th Annual Cannes Film Festival in 2014, Mara arrives fresh faced with a subtle red velvet lip and her light brown locks in a tousled up do.

Getty Images.
Mara looked dark and sultry at the Maison Cartier Celebrates 100th Anniversary Party in 2014 with bold brows, a bronzed glow and a dark berry lip.

Getty Images.
Attending the 8th Annual Museum Of Modern Art Film Benefit in 2015, Mara elevates her classic up do with a twist, rosy cheeks and a dark red lip.

Getty Images.
Mara lets her locks down in classic slicked back do with a neutral smoky eye at the premiere of Pan in 2015.

Getty Images.
At the 2016 Film Independent Spirit Awards, Mara plays up her up do with a faux side bang, creamy skin and a glossy lip.

Getty Images.
Staying true to her classic style of a sleek up do, a neutral eye and a red lip, Mara glows at the 88th Annual Academy Awards in 2016 where she received her second Oscar nomination for her role in Carol.

Getty Images.