Tyra Banks, Real Estate Mogul, Has Built Enough of an Empire in the Pacific Palisades to Rival Taylor Swift
Four properties in an exclusive enclave might arguably be worth more than a $50 million New York City block.
---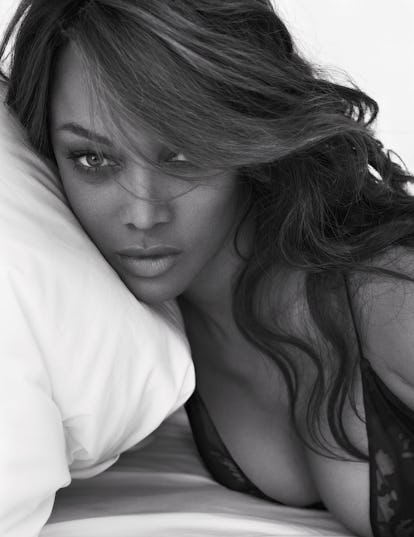 Photo by Mert Alas and Marcus Piggott, styled by Edward Enninful.
What would you do if you had around $20 million to spare? For Tyra Banks, the answer was to slowly building herself an empire in the exclusive enclave of the Pacific Palisades, starting when she dropped $3.2 million on a home back in 2014. From there came an upgrade—$7.3 million worth of ocean views—followed by a mere $1.6 million investment property, perhaps just for kicks. She's now back in the upper range, dishing out $7 million this month on what is her fourth property in the neighborhood to date.
Whether it's because the cash kicked in from her return to her show America's Next Top Model for its 24th cycle, or perhaps from her new line of emojis, Banks is making it clear she's ready for an upgrade. She not only purchased a new, entirely unnecessary home, but also decided to keep the lower Manhattan condo she'd previously listed for $17.5 million, thereby keeping the perks of its in-home hair salon and semi-regular sightings of Leonardo DiCaprio, who happens to live in the same building.
The latest corner of the exclusive enclave that Banks has claimed is, of course, much more than your usual guesthouse: It's a five-bedroom, three-story home complete with a hot tub, gym, playroom, and wine cellar. (With neighbors like Reese Witherspoon, there are no doubt a few more celeb sightings to be had in the town of less than 30,000, which is right next to Santa Monica and Malibu, too.)
All things considered, Banks is shaping up to be something of a West Coast Taylor Swift. Though she also owns properties elsewhere, including mansions in Rhode Island and Beverly Hills, Swift recently chose New York, the city that controversially named her its ambassador in 2014, as her empire and extremely public place of deposit, purchasing $50 million worth of property on a single city block in TriBeCa.
Swift, who hasn't been so into her squad these days, is spending most of her time in London with her boyfriend, Joe Alwyn, and doing her best to keep a low profile when she is in town. (She's probably still coming down from that extreme dose of paparazzi when she took a stroll through Central Park with her former flame Harry Styles a few years back.) All that makes it quite unclear what she's been doing, or even has plans to do, with all that space.
As for Tyra? The media mogul simply seems to be putting her Harvard Business School certificate—and (admittedly short) tenure at the Stanford Graduate School of Business—to work. That, or else she's planning to upstage Oprah and her legendary car giveaway by doling out mansions to America's Next Top Model's next few winners.
Related: Taylor Swift Now Owns $50m Worth of Apartments on a Single Block in NYC