How Does Taylor Swift Solve a Problem Like Her Squad?
Who's in? Who's out? Does Taylor even care?
---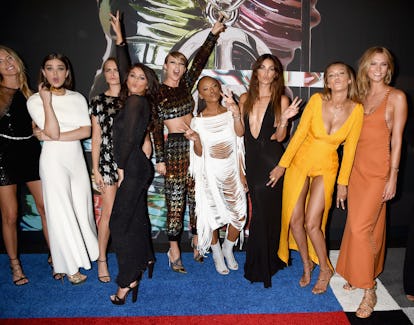 Jeff Kravitz
As we've known ever since she unveiled the title of her current album, Taylor Swift's latest era is all about dealing with any damage done to her reputation. Thought she was the secretly evil cheerleader-type who played the victim in public? Oh, actually, she'll fess up to being a little bit of a mean girl, and, yes, she will directly acknowledge her enemies. Did she seem perhaps a little too innocent, naive, and sheltered, or at least tried to make us think she was? Well, now she drinks, occasionally curses, and literally told her old self to shut up. Was her never-ending stream of way-too-public relationships starting to grate on you? Well, now she has an uncharacteristically low-key relationship with actor Joe Alwyn, and the only thing anyone seems to really know for sure about it is that it's serious.
With a few years away from the spotlight and a single album rollout, Swift had seemed to counteract all the criticism of her public persona she had assuredly read on Tumblr in one fell swoop. What else was there left to even gossip about? She'd addressed it all, if in a roundabout way.
Well, almost everything. There's still that pesky matter of the state of her squad, and it seems her way of dealing with criticism of the way she portrayed her exclusive friendship circle on social media may have unintentionally created another PR crisis for the music star. Because now the gossip and social media focus have a laserlike focus on, if not an obsession with, which friends are currently in and out of her good graces.
As we all know, Swift's girl squad was once the thing of legend. There were nights out, mutually adoring quotes in interviews, surprise concert appearances, joint selfies, and red carpet appearances, and most infamously those legendary Fourth of July parties that involved coordinating swimwear and inflatable waterslides. The list of members included a veritable who's who of modern It girls: Cara Delevingne, Gigi Hadid, Blake Lively, Lily Aldridge, Selena Gomez, Lena Dunham, Ellie Goulding, Serayah, the sisters Haim, Lorde, and Karlie Kloss to name just a few. Reminders of the friendships were everywhere, until, one day, it suddenly stopped. Surprisingly sad paparazzi photos of Swift's Hamptons estate sitting empty and unpopulated by VIP shenanigans emerged over the last Fourth of July, seeming to signal an end to an era we didn't even realize we had been living in.
Ever since, speculation about the state of the squad has been rampant. The group is like Project Runway contestants, and we are all Heidi Klum, forever wondering who is in and who is out. If she tried to downplay the squad, it seems it has only backfired.
The U.K. edition of the Spanish tabloid Grazia brought that notion home today by running an article that may be a journalistic scoop, or, perhaps more probably, a semi-informed fan fiction (though, we can't rule out the possibility of an intentional plant, can we?). The magazine quoted two unnamed members of Swift's squad who conveniently illustrated competing theories about what has become of the squad.
"Taylor's been keeping a low profile, but there hasn't been a big fallout," said one unnamed supposed friend. "She was stung by claims her squad was elitist, and prefers to spend time with close friends one-on-one at the moment." The source also added that it is somewhat understandable that her social situation has changed since Alwyn entered the picture.
The other possible friend sounded a little bit more pressed.
"Celebrity friendships are weird. You don't see each other for forever, and you accept that—but Taylor's gone off-grid in a big way since meeting Joe," said the other. "I even heard about people getting requests not to mention her in interviews. It's hard when that's all you're asked about, but Taylor is hypersensitive. I guess you have to be high-maintenance to become the biggest pop star in the world."
Yikes!
Questionable sourcing aside, the fact that the current situation may be dicey for all involved rings true. Online superfans have busied themselves with keeping their eyes out for any clues about the status of various friendships, and gossipy media is always quick to broadcast their findings to a larger audience. More than a few squad members have been asked about their status in interviews, and some have deemed their answers unsatisfactory. Take Lorde, for example, who while promoting her own album got into a few minor-controversies over the summer when asked about Swift. During one interview she seemed to say she was no longer part of the squad, but quickly walked them back.
After squaring away so many PR issues with Reputation, how does Swift confront this one? There's no easy answer. Even a Fourth of July reunion would cause drama. The Internet would comb over the guest list and then create backstories of blood feuds involving anyone who wasn't there…even if, say, that person had merely promised their mom they'd spend time with the family over the holiday.
And, likely, there are at least some natural shifts in relationships, the kind we've all experienced. How often do you go on Facebook now and the website reminds you of the anniversary of some party, or friends gather and you've realized you've lost touch with or grown apart from half the people involved? It happens to us all, but the rest of us don't have to worry about how to handle the ensuing tabloid and Twitter fallout.
Related: A Quick Update on Lorde, Karlie Kloss and the Rest of Taylor Swift's Illustrious Squad
Celebrate National Friendship Day Like These Famous BFFs
Kendall Jenner and Gigi Hadid attend the BALMAIN X H&M Collection Launch at 23 Wall Street on October 20, 2015 in New York City.

Getty
Selena Gomez and Taylor Swift arrive at The 58th GRAMMY Awards at Staples Center on February 15, 2016 in Los Angeles, California.

Getty
Rihanna and Cara Delevingne attend the British Fashion Awards at the London Coliseum on December 1, 2014 in London, England.

Getty
Drew Barrymore and actress Cameron Diaz with her Female Star of the Year award during CinemaCon, the official convention of the National Association of Theatre Owners, at The Colosseum of Caesars Palace on March 30, 2011 in Las Vegas, Nevada.

Getty
Laura Dern and Reese Witherspoon arrive at the premiere of "Wild" at Cinema 21 on December 8, 2014 in Portland, Oregon.

Getty
Jennifer Aniston and Courteney Cox attend the Los Angeles Special Screening of "Just Before I Go" at ArcLight Hollywood on April 20, 2015 in Hollywood, California.

Getty
Naomi Watts and honoree Nicole Kidman, the recipient of The Crystal Award for Excellence in Film, pose backstage at the Women In Film 2015 Crystal + Lucy Awards/

Getty
Beyonce Knowles and Gwyneth Paltrow during The 79th Annual Academy Awards at Kodak Theatre in Los Angeles, California, United States.

Getty
Michelle Williams and Busy Philipps attend the 89th Annual Academy Awards Governors Ball at Hollywood & Highland Center on February 26, 2017 in Hollywood, California.

Getty
Sienna Miller and Poppy Delevingne attend the Superdry Coachella brunch hosted by Poppy Delevingne on April 12, 2014 in Palm Springs, California.

Getty
Alexa Chung and Daisy Lowe attend the The Business Of Fashion #BoF500 Gala Dinner & Party at The London EDITION Hotel on September 21, 2015 in London, England.

Getty
Naomi Campbell and Kate Moss attend a private dinner celebrating the Global Launch of the 'Kate Moss for TopShop Collection' at The Connaught Hotel on April 29, 2014 in London, England.

Getty
Karlie Kloss and Model of the Year Jourdan Dunn attend the British Fashion Awards in partnership with Swarovski at the London Coliseum on November 23, 2015 in London, England.

Getty
Taylor Swift and Lorde attend the 2016 Vanity Fair Oscar Party Hosted By Graydon Carter at Wallis Annenberg Center for the Performing Arts on February 28, 2016 in Beverly Hills, California.

Getty
Hailey Baldwin and Kylie Jenner arrive at the Marie Claire Fresh Faces Party at the Sunset Tower Hotel on April 11, 2016 in West Hollywood, California.

Getty
Riley Keough and Sasha Lane attend the "Personal Shopper" premiere during the 69th annual Cannes Film Festival at the Palais des Festivals on May 17, 2016 in Cannes, France.

Getty
Kendall Jenner and Model of the Year winner Cara Delevingne attend the British Fashion Awards at the London Coliseum on December 1, 2014 in London, England.

Getty
LYara Shahidi and Rowan Blanchard, wear Chanel, at CHANEL Dinner Celebrating Lucia Pica & The Travel Diary Makeup Collection on July 12, 2017 in Los Angeles, California.

Getty
Emma Stone and Brie Larson attend The 23rd Annual Screen Actors Guild Awards at The Shrine Auditorium on January 29, 2017 in Los Angeles, California. 26592_018

Getty
Kimora Lee Simmons and Tyra Banks attend an event for Kimora Lee Simmons Presents KLS Fall 2007 Collection on March 23, 2007.

Johnny Nunez
Salma Hayek and Penelope Cruz attend the Vanity Fair Oscar party at the Sunset Tower Hotel in West Hollywood, California on February 22, 2009.

Jeff Vespa/VF
Dakota Fanning and Kristen Stewart arrive at the Apparition's 'The Runaways' premiere on March 11, 2010 at ArcLight Cinemas Cinerama Dome in Los Angeles.

Alberto E. Rodriguez
Kate Hudson and Liv Tyler attend the 2010 Met Gala at The Metropolitan Museum of Art in New York.

TIMOTHY A. CLARY
Jessica Biel and Jennifer Garner attend Variety's 4th Annual Power of Women Event Presented by Lifetime in Beverly Hills, California on October 5, 2012.

Jeff Vespa
Nina Dobrev and Julianne Hough attend Cosmopolitan's Summer Bash on August 10, 2013 at Palihouse in California's West Hollywood.

Stefanie Keenan
Maisie Williams and Sophie Turner attend the New York Premiere After Party for Game Of Thrones' Season 4 at Lincoln Center on March 18, 2014 in New York City.

Jamie McCarthy
Millie Bobby Brown and Maddie Ziegler arrive at the Teen Choice Awards at the Galen Center in Los Angeles on August 13, 2017.

Jon Kopaloff
Chrissy Teigen and Kim Kardashian West attend The 57th Annual Grammy Awards at the STAPLES Center in Los Angeles on February 8, 2015.

Kevin Mazur
Natalie Portman and Rashida Jones attend the Los Angeles Dance Project Gala in Los Angeles, California on October 7, 2017.

Vivien Killilea
Amy Poehler and Tina Fey perform onstage during ASSSSCAT with the Upright Citizens Brigade Live at Carnegie Hall on June 28, 2018 in New York City.

Bryan Bedder