Taylor Swift's "End Game" Video: An Illustrated Guide to All Those Drinks
No rumored Katy Perry cameo needed with all those cocktails, beer, shots, and champagne.
---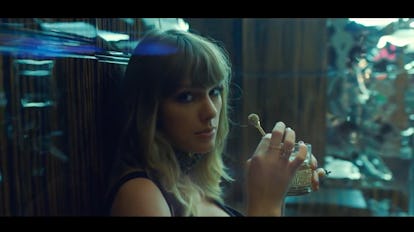 Yesterday, Taylor Swift teased the video for her newest single from Reputation, "End Game," the song you may remember for the fact that it features Ed Sheeran rapping—and actually somehow sounding just as good, if not better than Future, who also makes a cameo. Swift's videos from Reputation have already been of note—i.e. the scene in "Look What You Made Me Do," which is chock-full of let's say "homages," where she's pictured at ease in a bathtub full of $10 million worth of diamonds—but this one promised to be one of the most highly anticipated yet, thanks to leaked video of a backup dancer that more or less resembled Katy Perry.
Alas, Swift did not make amends with her foe aboard the yacht she dances on in Miami; the dancer turns out to be just another girl with a bleach blonde pixie cut. It happens. There's a lot of them out there right now. Still, there is something else with a presence likely as commanding as Perry's would have been: an absurd amount of alcohol—and only a passing glance at a snake, as if Taylor is signaling to us that she's given up beef for a bit booze every now and again.
The video, directed by Joseph Kahn, starts off at nighttime in Miami, where Swift is dancing and flipping her hair aboard the aforementioned yacht. Then, all of the sudden, Taylor is on the floor with a drink, and Future shows up rapping, opting to sit on some stairs. Meanwhile, elsewhere in the "giant behemoth," to quote Martha Stewart's recent description of the cruise boats, the partying ensues.
They're having so much fun!! Duh, but here's some scenery of more booze just to prove it.
Cut to a scene where Swift is completely alone, this time sitting on a chair, with a black cat taking her place on the floor—and then all of the sudden to Tokyo, where Swift is having a blast with Sheeran, taking shots.
Of course, it's not long before Swift borrows Sheeran's glasses and puts them on upside down.
Having moved on from shots—and Sheeran—Swift then opts for a much taller glass to somehow play DDR while holding a drink and wearing a pair of knee-high, glittery, high-heeled boots—a move only a pro partier could pull off. Hopefully there is some time in between these shots in Tokyo, though, because they're also interspersed with scenes of Swift driving a motorcycle, never mind that she's had a ton to drink. (At least she's wearing a helmet!)
But forget Tokyo! Now we're off to London, where a whole crew of new friends join Swift to make a champagne toast.
Sheeran's suddenly back for the house party, but gone when the party switches over to a bar, where Swift is making another toast, this time with a giant glass of beer.
Suddenly Swift is on top of the bar, having given up partying to play a game called—you guessed it—"End Game" on some sort of Game Boy thing. Since this is the only time her beef appears, Swift only takes a break to take a sip from her friend's drink, still keeping her hands glued to the device in the midst of the partying while doing so.
Clearly Swift was at that point in the night where she needed to get away from all the main action, so it's no surprise we soon find her in a much more intimate setting: a dark, ornate room where everyone's seated on couches, except for Swift. She continues dancing the night away—once again, impressively with a drink still in hand.
Sorry guys, party's over. Swift bids goodbye with one last sip of her drink:
Then responsibly fuels up on food before ending her night alone on a bridge on the Thames—but not before giving us a wink.
Unfortunately, we don't get to see any of the real end game of "End Game": her hangover the next day.
Related: Taylor Swift's "Look What You Made Me Do" Video: Homage or Ripoff?